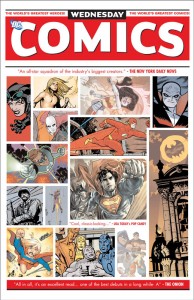 Contrary to what David thought of Wednesday Comics, most people did enjoy the effort. It was fun and different and gave us some really great comics (Seriously, Kyle Baker's Hawkman was amazing, Paul Pope's Adam Strange was totally gorgeous and daring and well it goes without saying that Risso and Azzarello's Batman was all kinds of great. I'll chime in with my own take later this week.)
Well today, DC's the Source Blog announced this:
WEDNESDAY COMICS, the groundbreaking weekly series featuring the all-star talents of Neil Gaiman, Joe Kubert, Lee Bermejo, Brian Azzarello, Kurt Busiek and many more, was a critical and commercial success across the board, featuring DC's greatest characters, including Superman, Batman, Wonder Woman, Flash and Green Lantern, in stories from the most talented creators in the industry. For 12 weeks, fans were treated to an historic and energized collection of newspaper strips compiled by editor Mark Chiarello that ranged from standard and captivating superhero drama to the surreal and innovative. But wait, there's more?

Just announced at the Baltimore Retailer Summit, we've got the details on the WEDNESDAY COMICS collection, a topic that's been hotly debated and prognosticated by fans since the inception of the series.

The hardcover collection of the series, which will retail at $49.99, will clock in at 11 x 17 inches, which will present the series in a deluxe, big-screen format befitting the series, which was originally printed on broadsheet newspaper pages.
Not too bad, while I think we can all do without the 49.99 price tag, I'm for sure going to have this in my collection when the softcover comes out. In terms of how it'll read, the mastermind behind this project editor Mark Chiarello had this to say: "….all of the stories will be collected by story – you'll read all of the Batman stories first, and so on."
I'm sure that due to it's financial and critically success we'll no doubt see another Wednesday Comics.. are there any teams or artists, writers, etc.. that you'd like to see tackle future issues? drop us a line at pdecourcy[at]comicbookdaily[dot]com