DC released their October solicitations yesterday and this one jumps right out at you: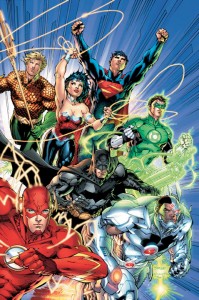 [quote]DC COMICS: THE NEW 52 HC
Written by VARIOUS
Art by VARIOUS
Cover by JIM LEE
On sale DECEMBER 7 • 1,216 pg, FC, $150.00 US
In September, DC Comic will launch 52 new #1 issues starring the World's Greatest Super-Heroes! In December, to commemorate this incredible event, DC is collecting every one of these debut issues in a once-in-a-lifetime massive hardcover that includes:
JUSTICE LEAGUE #1 by Geoff Johns and Jim Lee
ACTION COMICS #1 by Grant Morrison and Rags Morales
BATMAN #1 by Scott Snyder and Greg Capullo
GREEN LANTERN #1 by Geoff Johns and Doug Mahnke
SWAMP THING #1 by Scott Snyder and Yanick Paquette
STORMWATCH #1 by Paul Cornell and Miguel Sepulveda
TEEN TITANS #1 by Scott Lobdell and Brett Booth
And 45 more![/quote]
What?  Three months after the big relaunch you can get all 52 titles collected for only $150.  There is a slight savings going on here buying the hardcover but for the life of me I can't see why you'd want to.  Deals around the web right now are offering all 52 "floppies" for 50% off so you can read the entire jumping off point.  Is DC going to release another $150 hardcover every month so people can follow along?  What good is a collection of first issues to anyone reading collected editions?  I can't imagine this book having any shelf life in a comic shop, let alone a brick and mortar book store.
DC Comics: The New 52 HC reeks of a cash grab.