Amazon launched their new Kindle line yesterday, most notably the Kindle Fire, a 7″ colour tablet.  Along with this came word from ICv2 that Amazon will have 100 exclusive DC graphic novels available.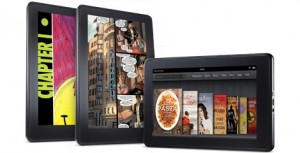 [quote]…with 100 exclusive DC graphic novels, including the bestselling graphic novel of all time, Watchmen, which has never before been available digitally. Others include Batman: Arkham City, Superman: Earth One, and Green Lantern: Secret Origin.[/quote]
Some checking on the Amazon website showed that these graphic novels will be available November 15th in the Kindle format.  That means anyone with the Kindle app will be able to read them, so the exclusivity rests with Amazon offering them before anyone else.  Unfortunately Watchmen at $9.99 is the only DC Kindle ebook listed: at that price it's a real deal but it's also been in print forever so it could be a loss leader for Amazon.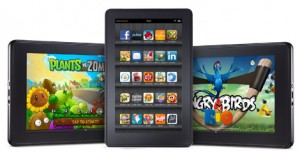 Also of interest was the Comixology app showing up on the device at the product launch: bottom right in the center image above.  While they've been able to rule the roost of digital comics distribution so far I don't see much changing.  Amazon is going after the graphic novel complete story trade paperback market and Comixology focuses on the monthly comic.  At least this explains the dearth of graphic novels in the market thus far.
Update: DC has made their official announcement.
DC ENTERTAINMENT DIGITAL GRAPHIC NOVELS AVAILABLE EXCLUSIVELY ON THE NEWLY-ANNOUNCED KINDLE FIRE, INCLUDING BEST-SELLING GRAPHIC NOVELS 'WATCHMEN,' 'BATMAN: ARKHAM CITY' AND 'SUPERMAN: EARTH ONE', AVAILABLE FOR THE FIRST TIME EVER DIGITALLY
Industry-Leading Graphic Novel and Comic Publisher to offer 100 Digital Books Exclusively to Kindle Customers
BURBANK, Calif., Sept. 29, 2011- DC Entertainment, the first publisher to offer more than fifty comic book titles on the same day in digital and print, is now taking the world of digital books by storm.  The comic book giant has worked with Amazon to bring 100 of its original graphic novels exclusively to Amazon's newly announced Kindle Fire, including best-selling graphic novels  WATCHMEN, BATMAN: ARKHAM CITY and SUPERMAN: EARTH ONE, which are available for the first time digitally.
"We're thrilled to work with the leader in digital books to bring many of the world's most beloved and best-selling graphic novels to Kindle readers," stated Jim Lee, co-publisher of DC Entertainment. "We've learned from the success of DC Comics – The New 52 that making our graphic novels available whenever and wherever our readers want is critical to the future growth and health of our publishing businesses–both in print and digital format."
"We're excited that DC Entertainment has made 100 of their graphic novels available for customers to read exclusively on our just-announced Kindle Fire," said Russ Grandinetti, Vice President, Kindle Content. "Some of these graphic novels, including 'Watchmen,' the bestselling — and considered by many to be the greatest — graphic novel of all time, have never been available before in digital format, and we think customers will love them."
DC Entertainment graphic novels will be available to Kindle Fire customers. WATCHMEN and SUPERMAN: EARTH ONE are available for pre-order now in the Kindle Store (www.amazon.com/kindlestore) and readers can soon purchase other DC Entertainment graphic novels.
The following 100 DC Entertainment titles will be available in the Kindle Store, with more titles to be added in the near future.
All Star Superman
All Star Batman & Robin, The Boy Wonder, Vol. 1
American Vampire Vol. 1
Batman and Robin, Vol. 1: Batman Reborn
Batman and Robin, Vol. 2: Batman vs. Robin
Batman and Robin, Vol. 3: Batman Must Die!
Batman and Son
Batman: Arkham Asylum
Batman: Arkham City
Batman: Hush
Batman: R.I.P.
Batman: The Black Glove
Batman: The Dark Knight Returns
Batman: The Long Halloween
Batman: The Return of Bruce Wayne
Batman: Year One
Blackest Night
Blackest Night: Black Lantern Corps Vol. 1
Blackest Night: Black Lantern Corps Vol. 2
Blackest Night: Rise of the Black Lanterns
Blackest Night: Tales of the Corps
Brightest Day, Vol. 1
Brightest Day, Vol. 2
Brightest Day, Vol. 3
Daytripper
Fables Vol. 1: Legends in Exile
Fables Vol. 2: Animal Farm
Fables Vol. 3: Storybook Love
Fables Vol. 4: March of the Wooden Soldiers
Fables Vol. 5: The Mean Seasons
Fables Vol. 6: Homeland
Fables Vol. 7: Arabian Nights (and Days)
Fables Vol. 8: Wolves
Fables Vol. 10: The Good Prince
Fables Vol. 11: War and Pieces
Fables Vol. 12: The Dark Ages
Fables Vol. 13: The Great Fables Crossover
Fables Vol. 14: Witches
Fables Vol. 15: Rose Red
Green Lantern Vol. 3: Wanted Hal Jordan
Green Lantern: Agent Orange
Green Lantern: Blackest Night
Green Lantern: Rage of the Red Lanterns
Green Lantern: Rebirth
Green Lantern: Secret Origin
Green Lantern: The Sinestro Corps War
How to Understand Israel in 60 Days or Less
Identity Crisis
Kingdom Come
MAD About Oscars
MAD About Superheroes
MAD About Superheroes
MAD About the 50′s
MAD About the 60′s
Marzi
Planetary Vol. 1: All Over the World and Other Stories
Planetary Vol. 2: The Fourth Man
Planetary Vol. 3: Leaving the 20th Century
Planetary Vol. 4: Spacetime Archaeology
Superman for All Seasons
Superman: Earth One
The Dark Knight Strikes Again
The Flash: Rebirth
The Joker
The League of Extraordinary Gentlemen (Vol. 1)*
The League of Extraordinary Gentlemen (Vol. 2 )*
The Sandman Vol. 1: Preludes & Nocturnes
The Sandman Vol. 2: The Doll's House
The Sandman Vol. 3: Dream Country
The Sandman Vol. 4: Season of Mists
The Sandman Vol. 5: A Game of You
The Sandman Vol. 6: Fables and Reflections
The Sandman Vol. 7: Brief Lives
The Sandman Vol. 8: World's End
The Sandman Vol. 9: The Kindly Ones
The Sandman Vol. 10: The Wake
The Sandman: Dream Hunters
The Sandman: Dream Hunters (P. Craig Russell)
The Sandman: Endless Nights
The Unwritten Vol. 1: Tommy Taylor and the Bogus Identity
The Unwritten Vol. 2: Inside Man
V for Vendetta
Watchmen
We3
Y: The Last Man, Vol. 1: Unmanned
Y: The Last Man, Vol. 10: Whys and Wherefores
Y: The Last Man, Vol. 2: Cycles
Y: The Last Man, Vol. 3: One Small Step
Y: The Last Man, Vol. 4: Safeword
Y: The Last Man, Vol. 5: Ring of Truth
Y: The Last Man, Vol. 6: Girl on Girl
Y: The Last Man, Vol. 7: Paper Dolls
Y: The Last Man, Vol. 8: Kimono Dragons
Y: The Last Man, Vol. 9: Motherland
*Available only in North America