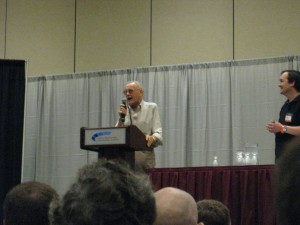 The lines were long, attendees were rude, security was proportionally worse, the building was overcrowded and above all I didn't meet Stan Lee.
There are a lot of justifiable reasons to criticize Fan Expo over the weekend, an event in which the organizers clearly over-sold tickets beyond the building's capacity based who would be appearing. I wouldn't go so far as to say they oversold tickets on purpose, but if it looks like a duck and quacks like a duck, nine times out of ten it's not an elephant.
The Expo, Saturday in particular, was horrendous. You can look at the pictures posted here on the site, but you can't truly fathom how obnoxiously ridiculous it was to be on the premises Saturday afternoon. There were people lining up all along Front St. from the convention centre's entrance and from what I'm told the line was a good kilometer long. Throughout this time, the line was occupying an intersection, impeding traffic in the process. It wasn't much better once you got inside, where a lot people inside were rather obnoxious, while some were just rude and perversely self-entitled.
At the height of the day it was impossible to move freely inside the building, especially once upstairs on the main floor where movement was a luxury attendees weren't afforded. It was so bad that once the Fire Marshall arrived, the event was nearly shut down, leaving droves of people crowded around the escalators waiting to go back up. I was one of those people. After having covered two panels back to back from 11 AM on, I found myself stranded downstairs as they let less than a handful of people in at a time, varying depending on how many people came downstairs. By the time I would have gotten close to the escalator, it was time for another panel. For one reason or another, I didn't get back onto the convention floor until around 4:30 PM. I had to cancel an interview to boot because I didn't want to pull the guys away from their booth and risk them not getting back upstairs. Suffice to say, the event on Saturday was a joke, and the organizers should be ashamed of themselves for how they handled the event. We know it won't happen, and although Friday and Sunday were marginally better in my opinion, the entire weekend left something to be desired.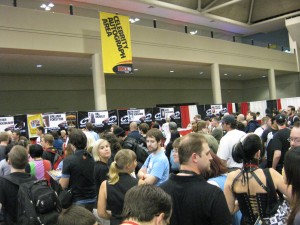 Through all the chaos of the weekend, the disappointment in not meeting Stan the Man or asking James Marsters what he really thinks about those poncy Meyer-esque vampires, or just being too tired to stand, all of us really do have every reason to be upset. Yet, here's the thing. I got to meet Summer Glau Saturday night, and I got to see the look on her face when I told her how much I loved Serenity, and even more, the final scene of the movie which is still one of my favourite cinematic moments. I thanked her for her part in that scene and the work she did on the movie, and then went on my merry way. That was worth it. On Sunday, I interviewed the guys behind the IDW series Kill Shakespeare. Through all the interviews I've done in the last year, I've never had more fun doing one. They're just a really good group of guys. That experience was worth it. Then there were all the times over the weekend I ran into people I knew, or in one case when amidst all the weekend's madness, I finally tracked down a friend working in artist alley and hung out with her for a bit. As icing on the cake, I got my first exclusive when Boom! Studios announced their next Disney project.
So maybe I missed my chance to meet Stan Lee, and perhaps now I never will. Even still, the weekend wasn't a waste. All of the bright spots made the weekend worth it, and I wouldn't trade any of it. I even have an oversized foam d-20 to show for my efforts this weekend. Food for thought kiddies.
Until next time, over and out…
Andrew Ardizzi is a student of journalism at Humber. He writes for the Humber Et Cetera. You can find him at his blog Come Gather 'round People Wherever You Roam. You can also follow him on Twitter.