DC Entertainment All Access Sunday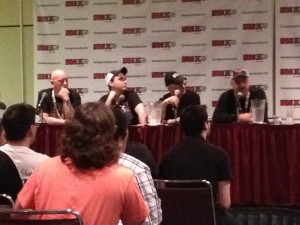 Today, on the last day of Fan Expo, I decided to hit up the DC Entertainment panel. They have been having these panels all weekend and each day they have covered a different topic or set of comics. I am very happy that I chose today to go because the panel covered mostly Batman (I pick up Detective every month). But, why I am really happy I went to the panel today was because DC announced that they are coming out with another Justice League! It will be the Justice League of America.
The new JLA will consist of: Martian Manhunter, Catwoman, Green Arrow, Hawkman, Katana, the new Green Lantern, Stargirl, and Vibe. The other Justice League will still continue, so no worries if you are a JL reader.
I'm not sure how I feel about this new announcement although the DC people seemed pretty excited. The fans thought it was neat, but there wasn't much of a reaction from the crowd at the panel. Polite claps and photos were taken, but no gasps or cheers. Frankly, without the extremely popular characters of the regular Justice League, I don't think the new Justice League of America will last very long.
Besides the new announcement, the panel spoke about upcoming Batman and Batman Detective story lines including some hints about what will happen with the Joker. And they introduced the new artist and writer for Detective, John Layman (writer of Chew who couldn't be there), and Jason Fabok.
DC also showed the variant cover of the upcoming Aquaman.
The Q & A's that followed were lackluster. No great questions were asked, but who am I to complain? I couldn't think of anything to ask them, so I just stayed quiet and listened.  Poor reporting on my part, but after spending the whole weekend at the Expo I was pretty tired and my brain just couldn't come up with anything good.
I have only heard things here and there about the other DC Entertainment all access panels from the weekend. This one seemed to be pretty good in comparison: the panelists were funny and open, and DC had their "big announcement" about the JLA.  It was the only panel I was able to make it out to today, and I was glad I did!