Overall, Fan Expo 2011 was a positive experience for me.  The programming was diverse and I think it had something for everyone.
I'd like to see the official attendance numbers for this year.  As a guess, I think it matched or surpassed last year's attendance.  I was a little surprised to see so many people attend Fan Expo on Thursday.  Before 2:00 PM, the line to get in stretched down Lower Simcoe and under the bridge.  I was actually expecting Thursday to be a very quiet day.  I have a feeling that Fan Expo has not reached its critical mass yet.
The South Building is the better building to hold the show.  The 700 level was spacious enough to handle the crowds leaving and waiting for panels.  The only bottleneck was the escalators going down to the 800 level.  It was a big problem when one of them was broken.  All in all, I never felt the crowds were as suffocating as they were in the North Building last year at the beginning and end of panels.  Also, I appreciate the fact that Hall G was used on Sunday.  Normally, Hall G was not used for any of the Sunday panels, even for the popular guests.
One thing I noticed at this year's Fan Expo is the large security presence.  There were the yellow shirts, the pale blue shirts, the royal blue shirts, the white shirts and the police.  The access to the show was very tightly controlled.  There seemed to be only 3 ways to enter Fan Expo.  If you had a ticket or wristband, you can use the escalator near room 206 in the North Building or the Bremner Blvd. entrance.  New ticket buyers would go down to the Lower Simcoe St entrance through the loading docks.  The Skywalk door was locked.  That's a little frustrating since year's past, it was open.  However, I understand why that was done.  Exiting Fan Expo was a little inconsistent.  Bremner Blvd. door was always available.  Sometimes I was allowed to go up the escalator to the North Building and sometimes I was not.  It depended on the person standing there.
THE STATE OF COSPLAY (at least the way I saw it)
Many people participated in cosplay at Fan Expo.  Among the costumes I saw, I noticed a few things.  The Bad Girl theme from the video game No More Heroes was quite popular.  There were more than a few girls holding a bloodied baseball bat.  There also seems to be a revival in the lady Star Trek uniforms from the 60s.  You will always see a few of the old uniforms at every Fan Expo but this year I saw a lot more.  The Matt Smith Dr. Who seems to be gaining a lot of traction among cosplayers of both gender.  Steampunk is getting more popular.  I was surprised to see huge lineups for the steampunk 101 and prop workshops.  What's passé seems to be Naruto.  For the past few years, I would be tripping over Naruto ninja characters.  This year, I saw less than 10 costumes from Naruto.
THE GUESTS
Favourite: Nichelle Nichols
Nichelle is a great storyteller.  Her Martin Luther King story is inspiring.
Favourite Runner-Up: Jeff Smith
Jeff Smith is a master in the craft of creating comics.  The amount of thought and research he puts into creating Bone and RASL is amazing.  As a speaker, he is very articulate and thoughtful when talking about comics and answering questions about it.
Not Thrilled With: Eliza Dushku
Her panel started late and ended early.  If it was not scheduled to be an hour, let us know in advance so we won't be disappointed.
The Bad: Junko Mizuno
For any guest who is not fluent in English, get a translator for them.
On a different tangent, I am not entirely sure why she was a guest of honour.  Fan Expo is about the mainstream.  Junko is really an indie mangaka.  She would be a great guest at TCAF but is not a good fit for Fan Expo.  I am not convinced that a lot of her fans would go to Fan Expo to just see her.
COOL SIGHTS
The 501st Legion Grand March is always an impressive sight.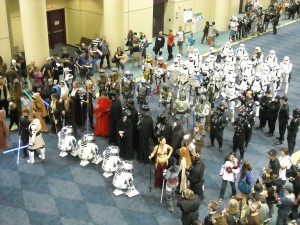 The Steampunk Belly Dancers was new to Fan Expo.  It was not really steampunk, more like Orion slave girls.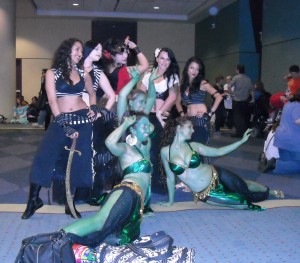 Ubisoft Just Dance 3 booth had huge crowds in front of it.  It's one thing to see people dancing; it's another thing seeing cosplayers doing it.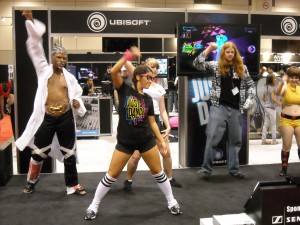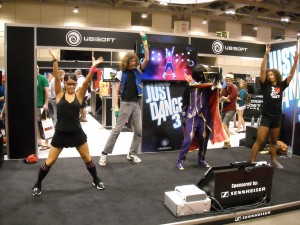 I hope everyone had fun.  I can't wait for next year.