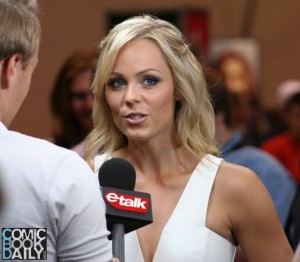 Bitten is a new series coming to television in early 2014, and the cast of this new show were at Fan Expo.  Bitten is about a woman named Elena Michaels, who is the world's only female werewolf.  She is trying to lead a normal life in Toronto, but her former life collides with her new one, when the other members of her werewolf pack, try to bring her back into the fold.
The series stars Laura Vandervoort, Greyston Holt, Greg Bryk and Paul Greene to name a few.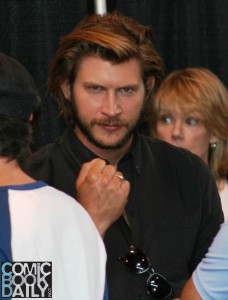 I didn't know much about the series (besides a few tweets by Laura Vandervoort), but luckily blogger Jackie Miller was standing beside us (my wife and I), and we started into a conversation about Fan Expo, comic conventions and the book series that the show Bitten is based on.
Jackie is a huge fan of the "Otherworld" book series by Kelley Armstrong.  She was able to fill us in on the books, and she attended the panel.  Jackie said that they announced in the panel that there were going to be a few changes to the book, but that is understandable when the written word is adapted to the television screen.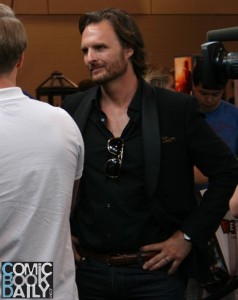 I wanted the opportunity to talk to Laura Vandervoort, and through pure luck I was able to arrange a meeting with her.  Jackie writes a blog about geek culture and fashion, and we all were fascinated by Laura's dress.  We just had to know where it was from.  Laura was gracious enough to come over and talk to us about it (which is from Intermix, by the way).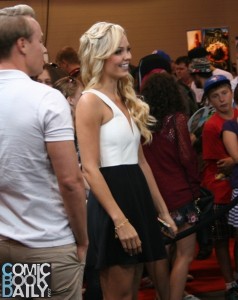 While we were chatting, I asked her about her involvement in the Captain Canuck web-series, where she is the voice of the villain Blue Fox.  Laura said it was a real honour to be involved in the project because Toronto is her home town, and it was a project she really wanted to be involved with.  I asked her if she would be interested in a live action movie in the future, her reply was possibly.
Meeting Laura Vandervoort was amazing in itself, then the experience got even more awesome.  Greyston Holt (Clayton Danvers in Bitten) and Michael Xavier (Logan Jonsen in Bitten) came over and we talked about the show, and the wrap party that happened on the Saturday night of Fan Expo.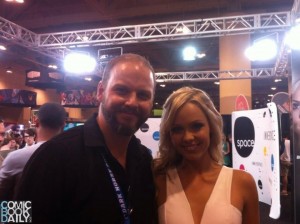 There is a real chemistry between the cast members.  Laura Vandervoort said they have so much fun on the set, and it didn't feel like work.  You could feel that when talking to them.  They were amazing to talk to, and I just wish I had hair like Greyston Holt.
After meeting the cast, I am definitely going to check out Bitten when it comes to Space in 2014.  I think it is going to be a hit, especially with a cast like this one.