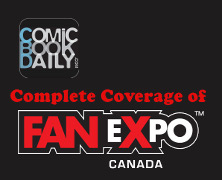 If there's one thing I've learned over the last two years, it's that when you combine Fan Expo with a Saturday, you're typically in for a rough day. Thankfully I was only on-site for a few hours on Saturday to cover the DC 52 panel and the X-Men panel. Unsurprisingly, the DC panel was packed and due to my tardiness, I almost didn't get in as it was beyond capacity and standing-room-only for regular patrons. Thankfully, I charmed my way into the room and all was well…
Well, actually, I flashed my media badge, was told to wait, stood around for 10 minutes and then was allowed in after the Fan Expo worker's supervisor showed up, but who cares for details, right?
The panel itself was fairly straightforward, with each of the creators in attendance taking time to talk about their specific projects and what they've enjoyed about their new gigs so far, while it was additionally confirmed that James Robinson will be writing a new JSA series after the 52-relaunch. The series will put the JSA back in action on Earth-2, where they'll be fighting crime and beating up bad guys, presumably similar to old-school superhero comics. Very little went on in the DC panel beyond this, although for the second straight day a DC panel brought up a young fan and let him read Flashpoint issue five. Also, if you haven't attended a DC panel yet and like playing poker, you should attend Sunday's panel focusing on the artwork of DC-52 as I presume they'll be handing out more Wayne Casinos poker chips, of which I now have two. The X-Men panel was fairly lackluster, except for a few tidbits regarding a new series coming in 2012, what's happening with Cyclops after Schism, and a little nod towards what's happening with the Cable Reborn series.
I spent very little time on the convention floor Saturday, and with good reason. It was a madhouse in the convention centre the entire time I was there, while it was periodically impossible to move about depending on where you were. Hopefully Sunday's a better day, as I still have six issues of Gambit to collect and would prefer to look through vendors' stashes in peace without someone bumping into me or stepping on my feet, as awesome as that is. As for panels, I'll be attending the Marvel panel at 11:30 a.m. and the aforementioned DC art panel at 1 p.m. Afterwards, I'll be catching up with the guys from Kill Shakespeare and talking to them about their work and what's next for them now that the 12th issue of their series has been released.
That's all from me sadly, as I did very little on Saturday. I hope everyone enjoyed their foray into Fan Expo Saturdays, and I hope you all resolved to get some rest. However, if you think Sunday will be less busy, keep in mind William Shatner is scheduled to appear. Oh dear…
Take it easy folks, and have fun on the final day.