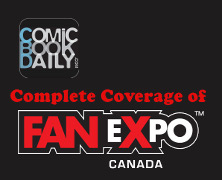 Saturday was the big day for the Fan Expo weekend.  When I showed up at the convention center the lines were very long.  You could hear a murmur in the crowd if this would turn out like last year.  I brought a friend with me to the show, so he stood in line to purchase a ticket, while I was able to enter.  I was on the show floor right at 10 am, he made it onto the floor at 11 am.  He said the lines moved very quickly.  They were constantly moving so they never became bored, and the 45 minute to 1 hour wait didn't feel as long as it did.  He said it was a definate improvement over last year.
I scouted out artist alley to see who was at the show.  I took the opportunity to get a couple of my books signed early before the crowd showed up.
Warner Brothers has a very impressive booth.  They have many interactive features and  an Abin Sur movie prop from Green Lantern.  The big buzz around Warner Brother's for this fall is the release of Batman Arkham City, which looks like it will be not only one of the best Superhero video games of all time, just one of the best video games of all time.
I stopped at the Hasbro booth to see what they were showcasing.  Their big product this fall is Kre-O Transformers.  As I overheard someone say "it's their Lego knock off".  To which a hardcore fan said "Dude it is more awesome than Lego."
Hasbro was selling some exclusives as well.  This was disappointing to me.  At San Diego the Hasbro exclusive was the Zarana G.I. Joe figures.  At Fan Expo the G.I. Joe exclusive was the Cycle Armour and Hiss Scout.  Hasbro had them available for $20 each.  They had a nice gold sticker on them saying "2011 Fan Expo Exclusive".  At CanJoeCon this year Hasbro said that these were discontinued but Zeller's had ordered them for retail.  Winners purchased the remainder of the series and retailed them for $9.99 each.  I passed on them since I already bought these a couple months ago from Winners, and paid $10 each.
I attended the Alex Maleev/Steve Epting sketch duel.  The sketch they chose was Dr. Doom.  Instead of 3 sketches every 20 minutes, they did one sketch and revealed it to the crowd every 20 minutes.  Alex Maleev is a very funny man.  He was joking around about deadlines, creative process and asking cab drivers about the craziest things they've ever seen.
Steve Epting talked about how he got into the industry, what book he would love to draw (which is Spider-Man) and the craziest deadline he ever had.  Both Alex Maleev's and Steve Epting's drawing were great (I liked Epting's more) and the sketch duel was a lot of fun.
In the afternoon I checked out the toy vendors.  There is a lot of Marvel Universe figures at this show.  The prices seem to be the regular pricing for a show.  There were not too many deals to be had.  I did pick up a new Marvel Select Captain America movie figure.  I bought him for $5 less than retail price.  Some vendors had $2 bins or heavily discounted bins.  This is a great place to stop if you are looking for some Lord Of The Rings figures.  It looks like movie figures from the last 10 years were the best deal to be had.
The celebrity area was very busy.  The lines were very long.  I was able to catch a glimpse of Robert Englund, Lance Henrikson and my life long crush… Elvira (she looks as beautiful as ever).  I hoped to catch a glimpse of the 6 Million Dollar Man himself, Lee Majors but he had left for the day.  I had to settle for John Astin.
At the end of the day I was able to hang around the Masquerade holding dens.  This was an experience for me.  I had the opportunity to see everybody getting ready for the show.  They were primping and prepping their costumes.  You have to respect the amount of work that goes into these costumes.  They spend a lot of time and definitely a lot of money on these costumes.
Saturday was a very busy day.  The crowd was very large.  A big tip of the hat to the crew of Hobby Star.  They managed the crowd effectively, while being very professional and courteous.  I will be a Fan Expo on Sunday.  I am eager to see what awaits then.