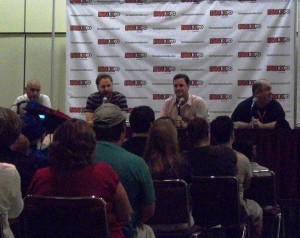 Panel: Axel Alonzo, Dan Slott, Ryan Stegman, Steve Wacker and Arune Singh
Marvel started off saying that they are really excited for Spider-Man during the next couple of months.  The beginning of the excitement for Marvel and Spider-Man was issue #692.  Which celebrated the character's 50th anniversary.
Issue #692 saw the introduction of a new character, Alpha.  Alpha was a student on a field trip to the laboratory where Peter now works.  During the field trip, an accident happens and Alpha gains super powers.  Now with Alpha's great power, comes Peter's new responsibility.
This will lead up to issue #700.  #700 will be a turning point for Spider-Man.  Everything will change from there.  The panel said that if you keep reading, you can see hints of what will happen.
The panel couldn't go into full detail (they do want you to buy the books) but some things we can look forward to are a Hobgoblin War (the original Hobgoblin will return), some technology from the Spider Island story, and issue #698 will feature the last request of a dying Doctor Octopus (the cover for that issue will have Doc saying … Peter Parker, so we will see where that leads).
Issue #700 will feature several variant covers.  One will be by Humberto Ramos and will be a wrap around cover.  Another will be a cover by Marcos Martin and the cover will feature the names of every single creator who has ever worked on Spider-Man.
The panel said that comic books do not tradionally ship during the week after the Christmas holidays.  This year only two books will ship.  One will be Amazing Spider-Man #700.  The other will be Avenging Spider-Man #15.1.  These two books will have a connected story and you have to read issue #700 first for that story series.
One of the creative changes for Spider-Man coming in the new year is that Chris Yost will be the new writer for Avenging Spider-Man.  Also there will be a special issue where the letters column will be answered by The Man, Stan Lee himself.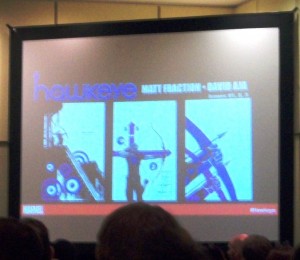 Another storyline coming out later this year will be Minimum Carnage.  In this series the Scarlett Spider and Venom will team up to battle Carnage, who has escaped custody to the Microverse.  This will be the first team up for the two characters.  The panel joked that the name Minimum Carnage was a joke that used to float around the office (in reference to Maximum Carnage).  Eventually the writers came up with an idea that would work with the title of the series.
Marvel is very pleased with the success of Venom.  The current Venom series is the most popular of any Venom series and the sales are very good on that title.  Scarlett Spider is another series that is doing well, and it was a natural fit to team up these two heroes (or anti-heroes as it may be).
Not only did they talk about Spider-Man during this panel.  They talked about other Marvel titles that tie in to the same creative team.
Punisher Warzone will launch in October 2012.  In Warzone, the Avengers decide it's time they put a stop to the Punisher.  The events of Warzone will change Punisher starting in 2013.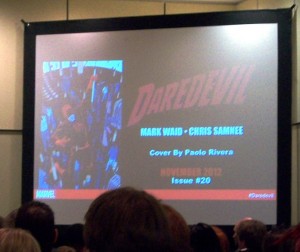 Daredevil #20 will be released in November 2012.  This will be an important comic.  Issue #18 will start a new story arc which will put Matt Murdoch through hell again.  We can expect a new villain to appear as well.  Coyote.
We will also see a new Daredevil title, End of Days.  This new series will be written by Daredevil favourite Brian Michael Bendis (all the DD fans applaud).  They had a copy and a lucky panel attendee got to read the comic.  After he read the series all he said was "epic".  He said it was a great DD story.  Almost as great as Born Again.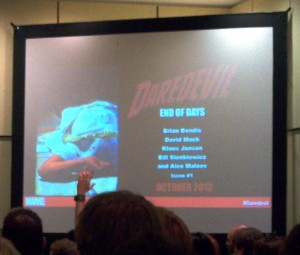 Captain Marvel is another title that Marvel is excited about.  They are confident that she will be one of the best characters in the Marvel Universe.  Very shortly Captain Marvel will be a member of the Avengers.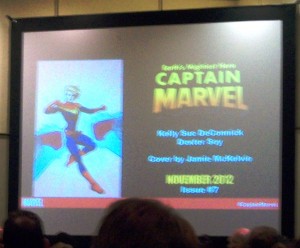 The other title Marvel is excited for is Hawkeye.  They said the sales numbers were very good for Hawkeye #1 and they love what Matt Fraction is doing with the character.  They said that Hawkeye #1 is one of the best #1 issues in years.  Their goal for Hawkeye was to keep it simple, keep it straight forward and give Clint Barton some swagger.  One of the influences on the new design for the character was Hawkeye's portrayal in the Avengers movie.  The scene where Hawkeye jumps of the building, spins and shoots a grappling arrow is the feeling they wanted for the character.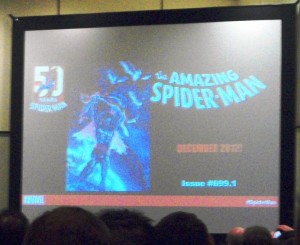 Another announcement that was made at the panel was Spider-Man #699.1.  This book will feature Morbius, the living vampire.  Starting in January 2013, Morbius will have his own series and the creative team will be Joe Keatinge and Richard Elson.  Originally Marvel planned a Thanos series, but now those creator's will be attached to Morbius instead.  Dan Slott said that Morbius is going to be hardcore, definitely not you "sparkly vampire" type of story.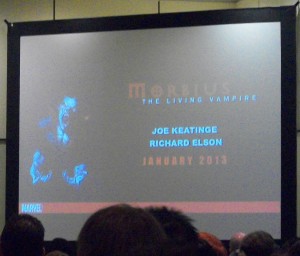 During the panel Axel Alonso said that a great writer can come up with great story ideas.  It looks like Marvel has a lot in store for the next couple of months.