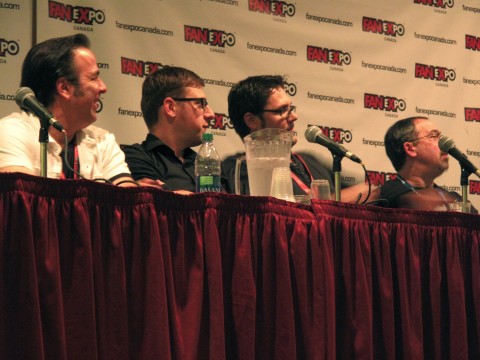 DC Comics hosted its first of three all-access panels at Fan Expo in Toronto August 24, featuring a host of the company's brightest creators as they chatted with fans for the better part of an hour .
The panel consisted of Francis Manapul, Marcus To, Jimmy Palmiotti, Jeff Lemire and Yanick Pacquette, each describing their thoughts on their books and the work they have done over the last year on their respective titles, in addition to what fans can expect over the next year.
Swamp Thing artist Yanick Pacquette reaffirmed his excitement and passion for drawing environments and nature-based elements in the title, but noted that although it is what first attracted him to the book before the "New 52" launched in Fall 2011, what he and writer Scott Snyder have planned going forward is too good to pass up.
"I'm drawing so much more post-apocalyptic (environments) and destruction," he said, additionally noting fans of the title can expect Swamp Thing to be fighting some very large monsters in the coming issues.
The title will be crossing over with Jeff Lemire's Animal Man, a title which he promises will reveal a deeper connection between The Rot and Arcane and their impacts on Earth. In addition to the forthcoming crossover, Lemire also chose to touch on his acclaimed Sweet Tooth series, a series which will be ending with its 40th issue.
"I'm getting really close to finishing (it)," Lemire said. "It's pretty bittersweet to part with these characters I've been building up the last three years."
The series will conclude in December, with issue 37 slated for a Sept. 5, 2012 release.
All-Star Western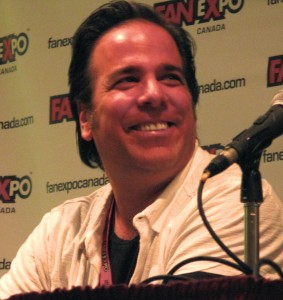 When the "New 52" was first announced last year, a number of titles were on the bubble and in danger of cancellation. Jimmy Palmiotti believed his Jonah Hex title was one of those books.
"When they announced the 52, we said, 'we're doomed,'" Palmiotti said.
He said DC was very supportive of the book though, adding DC co-publisher Dan Didio came to him and suggested moving Hex into Gotham, which led to the creation of All-Star Western.
"It (has) exceeded our expectations on every level," he said. "The book's been doing better and better and we have you guys to thank for that."
"We're really pleased to be where we are," he said.
One of the unique elements of the series has been the ability to write stories set in the past and tell stories in a way that ties into the stories being told in the present.
"There's nothing more gratifying than planting the seeds in the past and having people find it in the future," he said. "There's this thing with the New 52. We're all working together."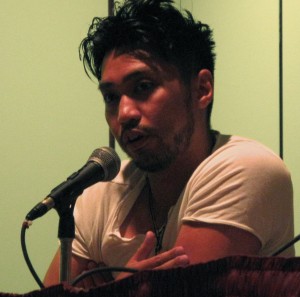 The Flash
With the first year of "New 52" titles coming to a close, Flash writer/artist Francis Manapul looked forward to the title's future and bringing back plot elements which were hinted at in earlier issues.
"There are a lot of things that felt inconsequential that will be consequential in Gorilla War," Manapul said. "With Gorilla City in decline, it's man's turn to be the next step in evolution."
Manapul also hinted at a different role for the Rogues during the story arc, noting that they will be the only thing standing between Central City and its destruction.