Over the holidays Fantagraphics released their Spring 2011 catalog which covers new items until August; yes that's well into summer but I didn't name it.  Feel free to browse it at your leisure but I wanted to highlight a few items I'm excited about.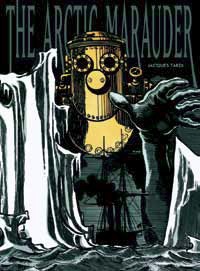 The Arctic Marauder by Jacques Tardi
$16.99 Hardcover
64 pages, black-and-white, 8 ½" x 11 ½"
ISBN 978-1-60699-435-1
A satirical, Jules Vernes-esque "retro-sci-fi" yarn executed on scratchboard in a stunningly detailed faux-woodcut style perfectly chosen to render the Edwardian-era mechanical marvels on display. Created in 1972, The Arctic Marauder is a downright prescient example of proto-"steampunk" science fiction — or perhaps more accurately, and to coin a spinoff genre, "icepunk." In 1899, "L'Anjou," a ship navigating the Arctic Ocean from Murmansk, Russia, to Le Havre, France comes across a stunning sight: A ghostly, abandoned vessel perched high atop an iceberg. But exploring this strange apparition is the last thing the sailors will ever do, as their own ship is soon dispatched to Davy Jones' locker via a mysterious explosion.
I've been enjoying the Tardi works Fantagraphics has brought to market thus far, hitting across the range of his body of work.  This is an early standalone work so it may be rough storytelling like the first Adele Blanc-Sec volume.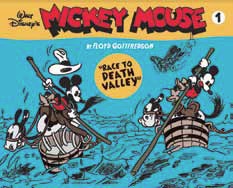 WALT DISNEY'S MICKEY MOUSE VOLUME 1: "RACE TO DEATH VALLEY"
by Floyd Gottfredson, edited by David Gerstein & Gary Groth
$29.99 Hardcover
260 pages, black-and-white, 10 ½" x 8 ½"
ISBN 978-1-60699-441-2
Relive Mickey's race to a gold mine with Pegleg Pete hot on his heels; Mickey's life on the lam after being framed for bank robbery; even Mickey's ringside battle with a hulking heavyweight champ! The premiere volume features a dozen different adventures starring Mickey, his gal Minnie and her Uncle Mortimer, his pals Horace Horsecollar and Butch, the villainous Pegleg Pete, and the mysterious and shrouded Fox. Gottfredson's vibrant visual storytelling has never been more beautifully reproduced; we promise the best reprinting the strip has ever seen, with each daily lovingly restored from Disney's original negatives and proof sheets. "Death Valley" also includes more than 50 pages of fascinating supplementary features, including rare behind-the-scenes art and vintage publicity material from the first two years of the strip. Critics, scholars, seasoned Disney archivists, and fellow cartoonists provide commentary and historical essays on the strip's creation and execution.
Classic Mickey Mouse storytelling that hearkens back to the first Disney shorts.  This is the first volume so sight unseen but Fantagraphics consistently puts out quality collections.  There is a lot of material so expect many more volumes to follow.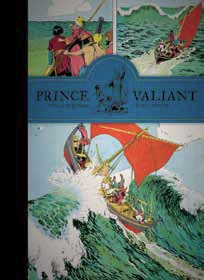 Prince Valiant Vol. 4: 1943-1944 by Hal Foster
$29.99 Hardcover
112 pages, full-color, 10 ½" x 14 ¼"
ISBN 978-1-60699-455-9
After a series of shorter adventures including "The Seductress," "The Call of the Sea," and "The Jealous Cripple," Val finally decides he can stand it no more and sets out to find his long-lost love. Long-time fans know that his quest will eventually be successful, but Foster throws so many obstacles in the way of true love that the saga "The Winning of Aleta" would end up stretching a full year and a half, well into the next volume.
With its stunning art reproduced directly from pristine printer's proofs, Fantagraphics has introduced a new generation to Foster's masterpiece, while providing long-time fans with the ultimate, definitive version of the strip.
These volumes are gorgeous reprints shot from printers proofs: they're a wonderful introduction to comic strip reading and a great gift.  The prose and artwork is seventy years old: a look into how graphic storytelling should be done.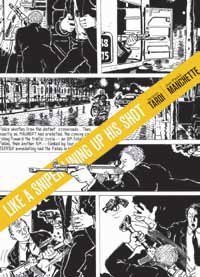 Like A Sniper Lining Up His Shot by Jacques Tardi and Jean-Patrick Manchette
$18.99 Hardcover
104 pages, black-and-white, 7 ¾" x 10 ¾"
ISBN 978-1-60699-448-1
Like many of the greatest noir thrillers, Like a Sniper Lining Up His Shot begins with a classic, even clichéd set-up: Martin Terrier, the hired killer, needs just one more big job so that he can turn in his guns, return to his native village to find and marry his childhood sweetheart, and retire. But nothing goes as expected, his "last job" turns out to be a set-up that results in a bloody shoot-out from which Terrier barely escapes with his life, and soon he's on the run from not only the authorities and his treacherous ex-bosses but also the members of a crime syndicate still seeking revenge for an earlier hit on one of theirs. (We won't even mention what they do to his cat.)
With Like a Sniper Lining Up His Shot, Tardi, at the top of his form, once again puts his lushly efficient neo-clear-line style in the service of Manchette's gleefully brisk prose for a spectacularly dark, violent and fast-paced crime thriller that will delight fans of their previous collaboration, West Coast Blues.
I just finished West Coast Blues over the holidays and I'm hooked.  Manchette has a unique terse writing style that really drew me in; it's not your average action adventure.  These should be on your shelf beside Darwyn Cooke's Parker series.