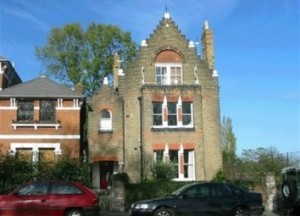 I guess they're called flats in the UK, but the premise remains: you can live in the apartment/flat from Spaced, the great British TV show that introduced many to Edgar Wright, Simon Pegg, Jessica Stevenson and Nick Frost.
Pegg tweeted a link to a listing for a vacancy in the building that served as the exterior for the show; the actual apartment was built on a soundstage and looks nothing like the place that's for rent. But the place that's for rent looks quite nice! And you'll probably have tourists showing up to take pictures of your place once in a while – it happened memorably in the doc on the Spaced DVD set, where some picture takers were shocked to see Tim and Daisy themselves walk out the front door of the building.
Click here to take a look. Make an offer soon!