Marvel announced this week they'll be expanding their campaign of including a code for a free digital copy from Avenging Spider-Man to the entire Ultimates line.  Here's the press release.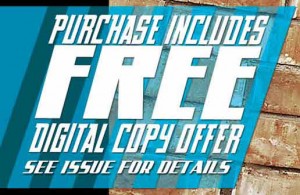 [quote]Celebrate the New Year with the biggest change to world of digital comics in 2012! Beginning with January's Ultimate Comics Spider-Man #6, all Ultimate Comics Universe titles will be polybagged with a code for a FREE digital copy on the Marvel Comics app for iOS and Android devices at no extra cost! In February, these codes (redeemable for the same print issue as purchased) expand to the rest of the Ultimate Comics Universe, as new arcs begin with Ultimate Comics X-Men #7 and Ultimate Comics Ultimates #7.
"The groundbreaking stories told each month in the Ultimate Comics Universe are some of the best comics being published today," said David Gabriel, Senior Vice-President of Sales, Marvel Entertainment. "Looking at the tremendous response to our digital copy code offer with Avenging Spider-Man #1, it's clear that this is something fans want to see more of and we're delivering it on a scale never seen before, with no extra cost to retailers or fans—and historic benefits for our retail partners."
The Ultimate Comics line made history in 2010 with the first line of comics to be offered digitally on the same day print editions hit stores, beginning with Ultimate Comics Thor #1. With its inception in 2000, the Ultimate Comics Universe reimagined the world's most popular super heroes, including Spider-Man, Captain America, Iron Man, Wolverine and more, for a new generation. It continues to be one of the most acclaimed and best-selling comics initiatives of the last decade, with the 2011 introduction of an all-new Spider-Man heralded as one of the most important moves in pop culture history.[/quote]
As well Marvel released a FAQ for retailers, DIGITAL COPY REDEMPTION FOR DIRECT MARKET RETAILERS, which is far more telling.
[quote]How will the codes be kept secret in the books?
These books will contain the codes printed on one of the inside covers, and the books will be clear polybagged to keep customers from simply copying the codes within the store. We may try other methods going forward as we don't want to keep customers from reviewing books before they buy them on a regular basis.
Will these eventually be in all $3.99 books?
We'd like to get there. Consumers are demanding more value for their purchase and we strongly feel that this will give them that extra added value.
Will I have the option to buy versions of the comic without the free digital copy?
No, all copies of this issue, including variant covers, will contain the free digital copy codes. Marvel has a responsibility to our consumers and we'll be promoting that all copies contain the digital codes. We don't want to run into a situation where a customer goes into a retail shop to buy this book with the code and the retailer only has a different version of the product. That makes us all look bad. Also, it's a confusing message to make if we were to say "only some of the copies will contain digital codes, so good luck finding the retailer that sells these…"
How will Marvel use digital comics to push customers to my brick-­‐and-­‐mortar store?
Marvel will be able to email customers in our marketing database who purchased the print copy of one of these issues, letting them know when the following issue is in stores. Marvel will also be able, in the future, to market to these customers via email any in-­‐store events or programs for retailers and at retailers request. Marvel is exploring multiple methods of couponing to digital customers, sending them into stores for redemption. More on this as it develops.
What will Marvel do with the customers' email information?
At present, with a customer's consent, we will be providing retailers with the email addresses of customers who purchased the books in their stores. At a future date we would like to start promoting the in store sale of upcoming releases of print comics back to those customers and drive them into stores. These same customers will continue to receive weekly email notices of what is on sale in the Marvel App, provided they have consented to this use of their contact information.
How much will retailers be credited for digital copy redemptions made by their customers? And when and how will these credits be given?
For these issues retailers will receive a credit at Diamond of 50 cents per each unique qualifying download. The credit process will begin approximately 8 weeks after the on sale date to insure that the highest number of redemptions has been made. Retailers will be credited for redemptions made for up to 6 months after the on sale date. At this time there will not be a minimum number of qualifying downloads needed to qualify for the credits. We are working with Diamond to inform retailers in advance what their likely credit will be.
Will retailers get credit for future purchases that a customer makes with Marvel digital comics?
We are working on a system now that once a customer is identified with a retailer, any purchases made of a new digital comic or collected edition day and date release, a bounty or reward of some kind gets passed back to the corresponding retailer.
Do the codes expire?
For this test we are planning to have the codes expire in approximately one year.
Will Marvel share the outcome of this test with retailers?
To the best of our ability we will be able to share your store's performance as well as the performance of the overall program as it relates to the Direct Market. We will not share individual store performance with other stores.
Will the credit only apply to the Direct Market or will newsstand sellers receive the credit?
The credit only applies to Diamond Direct Market customers.
How often will Marvel be doing this?
We may test other series going forward and are looking into options such as couponing to digital consumers to send them into comic shops to have coupons redeemed and more.
What do you consider a "success"?
If we can excite customers with the extra added value of the digital comics, continue to reward brick and mortar retailers by making them partners in this process, and by growing the customer base for the Direct Market even by a small percentage, then that would be a success.[/quote]
Let me see if I can sum this up.  For the same cover price Marvel will be selling a print comic and a digital comic.  The retailer will receive their usual discount on the print comic and will receive $0.50 credit for every digital copy redeemed.  Marvel is basically saying that not only does the digital copy hold no value, they're paying to get it out there.  Buy a print copy for $3.99 and get a free digital copy to use or give away, or buy a digital copy from the Marvel App for $3.99.  That is certainly one way to drive customers into brick and mortar comic shops.