Looks like we've found our Carrol Ferris who will fall in love with Ryan Reynolds' Green Lantern. Variety reports that  Blake Lively of the show "Gossip Girl" has landed the role. Right out of left field? I've got no clue at all whether or not she's a good choice to play Carol as I'm fairly sure the majority of comic fans aren't prone to watching Gossip Girl. But she sure is purty! I'm sure the Green Lantern fans out there are drooling over the idea of her playing Star Sapphire one day too possibly.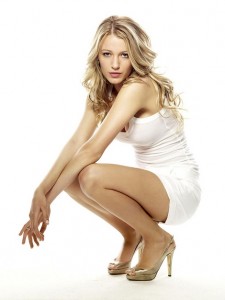 On a funny side note: Astute readers will notice a few errors in Variety's reporting around the Green Lantern series itself.
"Green Lantern" was hatched in 1940. Hal Jordan, a second-generation test pilot, is an ordinary man who has been charged with defending a sector of the universe with a mystical green ring. His love interest Carol Ferris is a pilot and administrator in civilian life.
Hal Jordan's ring isn't mystical damnit! That's Alan Scott and he was the one who showed in up 1940! Hal Jordan showed up in 1959. Ok there we go, I'm calm now…geek rage over!