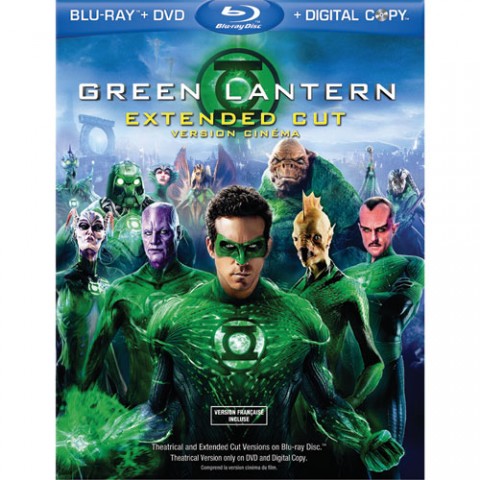 Oct 14th Green Lantern is coming out on Blu-Ray and DVD.  This is Green Lantern's first appearance in a live action feature film.  Three different releases will be available: 3D/Blu-Ray/DVD/Digital Combo, Blu-Ray/DVD/Digital Combo and a straight DVD copy.  Some of the special features include behinds the scenes details on making Green Lanterns, and an in-depth look at the history of Green Lantern in comics.
As you can see in the above picture, Green Lantern has an extended cut with an additional 8 minutes.  The extended version will have more history between Hal Jordan, Carol Ferris and Hector Hammond when they were children.  Hopefully this builds on the background of Hector Hammond and make his character more interesting.  I felt his character didn't need to be in Green Lantern.  He could've been easily removed from the movie and more focus could've been put on Hal Jordan and Carol Ferris.
Green Lantern didn't do as well financially and critically in theatres as this summer's Marvel offerings (Thor and Captain America).  It's worldwide box office take was $219,851,172 (source Box Office Mojo) and now there are rumours on the internet that the originally planned sequel has been scrapped.
I thought Green Lantern was a good movie, but not great.  It seemed to miss the mark somewhere.  As I mentioned before I didn't think Hector Hammond should have been in the movie.  There were too many characters to introduce, he could've waited to be in a sequel.  I would've liked to see more of Oa, the Guardians and the rest of the Corps.  Since an extended cut has been released, I would like to think the editing changed the movie from the director's original vision.  Martin Campbell is the director of the movie and I really like what he's done.  If you are not sure who Martin Campbell is, some of his pictures include No Escape, Golden Eye, Mask of Zorro, Legend of Zorro and Casino Royale.  All great pictures.  I think Green Lantern could've been great… unfortunately it looks like we won't get a sequel to see for sure.
Buy It? Borrow It? Bargain Bin It?
I suggest borrowing or renting it.  If you need a copy of the movie, you can grab it in the bargain bins later.  As for myself I plan on picking up the Blu-Ray combo on the 14th (just because I buy all Superhero movies).  It wasn't a great movie, but it was enjoyable.