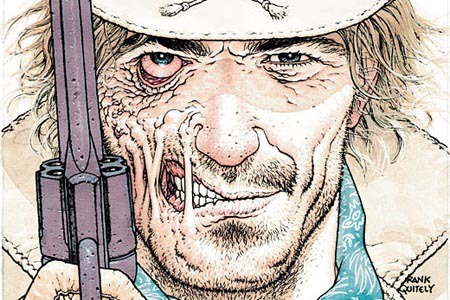 Check out the first theatrical trailer for "Jonah Hex" the new Warner Bros. film based on DC Comics' classic anti-hero of the Old West. Opening June 18, "Jonah Hex" stars Josh Brolin, John Malkovich and Megan Fox.
Is it just me or is Brolin totally riffing on Heath Ledger's clenched jaw portrayal of Ennis in Ang Lee's lyrical cowboy love film 'Brokeback Mountain?"
Is the supernatural that important to the Hex mythos? I've kind of enjoyed Palmiotti and Gray's straight up Western approach to the character, but I suppose there's got to be more of a hook than a 'horrible disfigured cowboy' or else this could end up in Man Without A Face territory.
Though; Mel Gibson would make a pretty decent Jonah.