For those of you who are true fans of Canadian comics, including all WECA Canadian Whites diehards, then Lost Heroes is for you. This film about Canadian comics premieres 7 PM Friday February 28th at The Royal Cinema, 608 College Street, Toronto, Ontario, M6G 1B4.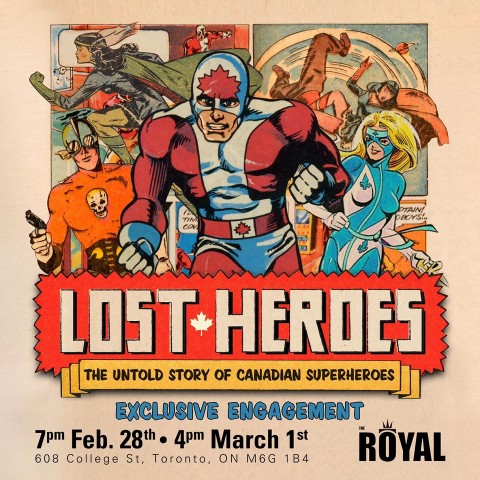 LOST HEROES is the story of Canada's forgotten comic book superheroes and their legendary creators. A journey to recover a forgotten part of Canada's pop culture and a national treasure few have ever heard about, LOST HEROES is the tale of a small country striving to create its own heroes but finding itself constantly out-muscled by better-funded and better-marketed superheroes from the media empire next door.
Writer/Director Will Pascoe (Orphan Black; The Finder), a lifelong fan of comic books, spent years bringing this story to screens in hopes of preserving this unique piece of Canada's identity for future generations. "I was amazed how many Canadians had never heard of Captain Canuck, Alpha Flight or Nelvana of the Northern Lights," says Pascoe. He worked with Director of Photography Andrew Oxley, Editor Matthew Anas, and Electric Square Media's Mark Alberts who handled the film's hundreds of visual effects. Narrating LOST HEROES is legendary Canadian actor and original voice of TV's Spider-Man, Paul Soles.
Will Pascoe will be in attendance at the Royal Cinema screening Friday February 28th and will be doing a Q&A following the screening.
LOST HEROES was produced by Tony Wosk (The Samaritan; The Illegal Eater) of Middle Child Films and Kyle Bornais (The Sheepdogs Have At It; The Illegal Eater) of Farpoint Films. It was produced with the participation of Super Channel, The Canada Media Fund and the Rogers Documentary Fund.