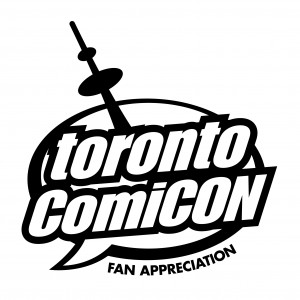 Yesterday was the first day of the Hobbystar Fan Appreciation Event, a free show that followed on the heels of the Wizard World Toronto show.
The guest list for comic fans was awesome with the usual Toronto crowd being represented as well as Ethan Van Sciver, Patrick Gleason, Khoi Pham and Geoff Darrow being some of the bigger name draws. I arrived at the show a couple minutes before opening and immediately saw that the number of dealers was significantly greater than the number at Wizard World Toronto. While there were only really 3 main comic book dealers at WWT (editor's note: Wizard World Toronto), Hobbystar had easily 3 times that many with most them bringing a ton of stuff with them. This was likely helped by the fact that tables were around in the 400 dollar range compared to the 900ish charged by Wizard World. Since there wasn't as big an emphasis on celebrity guests, there wasn't a huge rush all at once. Instead, there was a steady flow of people. The aisles rarely thinned throughout the day but the crowds were manageable and allowed for easy browsing.
As usual, conventions are a great place to stock up on trade paperbacks—almost everyone was doing 30% off US cover and One Million Comix (Toronto) was doing 40%, making it an ideal place to fill in trade runs. Often savings gained on trade paperbacks from shows are mitigated by the cost of admission…no such problem with a free show!
If you're into original art, you definitely had a great day. The artist's alley took up the back-half of the room and every space was packed to the rafters with artists.   Ethan and Patrick were doing headshots for about 60 bucks while full figures would run you about 200. You could get a quick free sketch if you brought in a hardcover copy of a book to get signed. The funny thing was that while Patrick was charging 200 bucks for full figures, he was only charging 100 bucks for some great inked pages from his Green Lantern Corps run and some of his covers started at only 150 bucks, which is just insane. I managed to snag the variant cover to GLC #48 for a song. I should also mention that Ethan Van Sciver really is a great singer, I think I saw tears in Patrick's eyes as Ethan was romantically serenading him. Michael Cho, whose style reminds me very much of Darwyn Cooke had a fantastic portfolio that was very reasonably priced. Chris Sprouse was doing headsketches for about 10 bucks each and had some reasonably priced pages. At last year's Fan Expo he was doing a flat 40 for all pages including his Tom Strong and Batman Return of Bruce Wayne issues, this time while he still had some at the 40 rate, the Batman and Tom Strong pages were priced individually. Just goes to show you that you should never hesitate or second guess in the original art game!
The vintage comic dealers were out in full force with guys like Jamie Graham, Harley Yee, Dragonlady, Myth and Legends and Big B; guys you usually see at the Fan Expo event. Pretty much every book you could want was available with keys being represented. If you couldn't find it from anyone else, Harley definitely had it for a little bit more. Dollar bins were definitely a big draw, as the crowds around them were flooding up the aisles nearby.
Toy dealers were well represented too. By my count, there were at least 5 dedicated dealers, focusing mainly on stuff from the last 10 years or so. No Mego stuff like that but lots of DC Universe classic figures like the one per cases drawing interest.
This event was straight up for the fans, no big announcements or movie studio presence or setups with movie vehicles taking up big chunks of space. Just guests, dealers and fans having a great time.