CGC, the Certified Guaranty Company, announced a new service yesterday: grader notes. Here's the info straight from the source.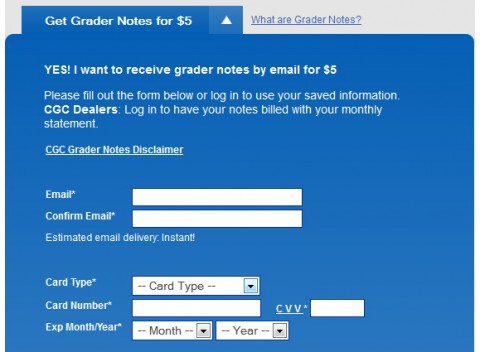 What are CGC Grader Notes?
When CGC graders examine a comic book or magazine, they often enter comments about the collectible's condition. These "Grader Notes" describe problems, indicate the condition of the interior pages, and help explain why a collectible received the grade it did. After the first grader enters notes and their grade, the next grader can review those notes and can make any additional notes. For comics with the purple CGC Restored Grade label, Restoration Notes are given that describe the location and type of restoration. These notes are a valuable part of the grading process, and CGC now allows Grader Notes to be obtained online.
Sample Grader Notes
Some commonly used CGC Grader Notes include:
Right Center Front Cover Lite Fingerprints
Top Spine Water Damage
Left Center Back Cover Moderate Erasure Mark
Spine Small Stress Lines
Staple Rusted w/Rust Stained Interior
Interior Heavy Tanning
Bottom Right Front Cover Large Crease
Top Right Front Cover Restoration Color Touch
Left Center Back Cover Restoration Tear Seal
Grader Notes Fee
CGC Grader Notes are available online at CGCcomics.com. The fee for CGC Grader Notes varies based on the tier the comic book or magazine was submitted under.
Introductory Fees for CGC Grader Notes:
| | |
| --- | --- |
| Comics Submitted Under (Tier) | Fee |
| Economy, Value and Modern | $5 |
| Standard and Express | $15 |
| Walkthrough | $30 |
How do I get CGC Grader Notes?
When you enter a certification number for a CGC-graded collectible in the free Verify CGC Certification tool, you will see if it has any Grader Notes. To unlock the Grader Notes, click the "Get Notes" button and fill in the required fields. CGC Dealers can expedite the process by logging in to have Grader Notes billed with their monthly statement.
CGC Grader Notes are sent to the email provided within one business day. If the Grader Notes form says that delivery will be INSTANT, the Grader Notes will appear immediately and also sent by email.
So let me get this straight. Notes on CGC grading have been done for who knows how long, and now for a price you can see why they picked the grade they did, for a price. That's insane! For years the "common collector" has been scratching their heads and wondering how exactly CGC came up with the grades it did, and now we find out there were notes all along that should have been included in the price of the grading!
Even if I agreed to the $5 fee for modern books there's no way CGC should be charging for any of the upper tiers. Walkthrough? They charge 3% of book value for this service and now want an extra $30 to see the notes. This is a shakedown pure and simple. Then they have to guts to post this disclaimer.
The customer may view, copy, print out, and use the content herein solely for your personal use, provided that the content is used for informational and noncommercial purposes only. The use of any such content for commercial purposes is expressly forbidden. Reasonable efforts are made to ensure the accuracy and integrity of information and related materials provided by CGC but CGC is not responsible for misprints, out of date information, technical inaccuracies, typographical or other errors appearing herein. These notes and all information and related materials they contain are provided "as is." CGC makes no claims or warranty whatsoever regarding the completeness, accuracy, currency, or adequacy of, the information and materials it contains.
Personal, non-commercial only. Hmm. Yet is states at the bottom of the grader notes order screen:
CGC Dealers can expedite the process by logging in to have Grader Notes billed with their monthly statement.
So basically the notes may not contain any pertinent or useful information and you pay anyway, and can't use them to help you sell you CGC book that you most likely had graded for that one explicit reason. If they're charging to see notes then they should break down explicitly how the grade was determined, pure and simple.