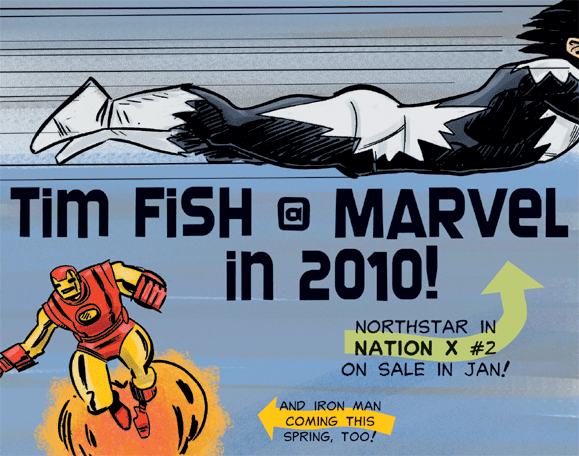 Everyone's favourite Gay Canadian Speedster will soon have found happiness. Which is saying a lot since the character has been killed off in three timelines in the span of a month, resurrected, joined a separatist group of Quebecois, seen his team destroyed, etc.. so it's about time that the guy should get a boyfriend.
When the X-men moved to San Francisco this year, we saw the existence of what looked to be Northstar's boyfriend (and manager) Kyle. Artist Tim Fish (Young Bottoms in Love) revealed on his blog that his upcoming story in Nation X #2 (which comes out in Jan.) is a story about Northstar, and will feature Kyle, his boyfriend in an 8-page story. "This story might be a first," Fish wrote  recently on his blog. "Northstar introduces Kyle as his BF and they have implied sex (no, nothing like the Hank Pym/Wasp thing*!)."
Here's his complete Blog Post:
You've read my posts hyping upcoming Marvel gigs, and I am finally ready to admit that, yes, my story in NATION X #2 is the Northstar story!

I suppose I've been a little shy, since the last time Marvel asked me to do a Northstar story, the plug was pulled…but my inks have been approved and the colorist is doing his thing on it. So I am comfortable talking about it now.

Long story short, the X-Men now live on an island off the coast of California. One of their members, Northstar, is Canadian. Northstar off course if Marvel's first out super-hero (having come out in 1992) but never had a BF until a few months ago. So the story I was asked to do is about how living on the island is impacting his relationship. This story might be a first… Northstar intorduces Kyle as his BF and they have implied sex (no, nothing like the Hank Pym/Wasp thing!).

It's only 8 pages, so I am not going to post any preview art… but here are some sketches I made in preparation for the story: Northstar, his BF Kyle, his sister Aurora.

The story was lots of fun to write and draw! I was able to draw some action scenes, and cameos from many X-Men: Cyclops, Storm, Colossus, Psylocke, some New Mutants…and even Dazzler in rollerskates! 🙂 I'm told the art is my best work to date (yay!).

So please do pick up NATION X #2 on sale January 6!

PS Yes, I have an upcoming Iron Man story, too… just wrote that one though.
Check out his blog for some sketches of Northstar.
I got to meet Tim Fish a few years back at TCAF and he was a really cool and funny guy, I'm really looking forward to his story and wish him all the best! Congrats!
*for those not aware of the Hank Pym/Wasp thing… click here.. warning though, NSFW.