Welcome to Old, but still good to know, where we don't bring you the latest in comic news but we talk about topics in the comic industry that people may have forgotten or people new to the hobby don't know!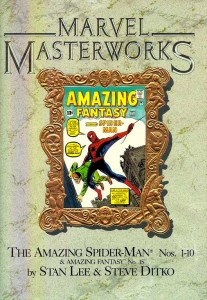 The first topic we're gonna tackle are the Marvel Masterworks which are supposed to be the definitive reprints of older stories in color. Fans who buy these expecting to see art by the likes of Ditko and Colan may be surprised to find out that some issues and pages aren't even done by them! Since Marvel either had trouble finding the original art or stats or just didn't want to go to the expense, decided to hire a stable of artists to recreate the original art from reference pages. Marvel does acknowledge in the credits page of the Masterworks that art reconstruction has occured by giving credit to the artists. However, they don't tell you specifically what parts of the Masterworks consist of reconstructed art. Based on the webpage and art for sale by one of the artists; Michael Kelleher, we can see that the first page of ASM Annual #1 and the entire story of ASM #29 are recreations. Interestingly enough, the wikipedia entry on the Marvel Masterworks has no mention of this reproduction at all.
Personally, I don't have a problem with recreating art for the Masterworks when the original art is not available, but I do have a problem when they don't specifically state what was recreated. Hit up 20th Century Dannyboy for the original article that brought this issue to my attention. You can also purchase some of the original recreation art and read some of the responses by Michael Kelleher at his site.