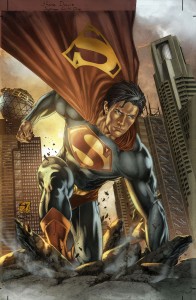 In what promises to be a week of big DC announcements, DC's blog The Source is announcing a new line of graphic novels under the name "Earth One."
Starting next year, DC Comics will unveil SUPERMAN: EARTH ONE and BATMAN: EARTH ONE, two graphic novels spotlighting the most powerful heroes of the DC Universe, with their first years and earliest moments retold in a standalone, original graphic novel format, on a new earth with an all-new continuity.
Return to Smallville and experience the journey of Earth's greatest adopted son, as he grows from boy to Superman in SUPERMAN: EARTH ONE by J. Michael Straczynski and artist Shane Davis. While you'll also get a chance to see Geoff Johns and Gary Frank (currently placing Christopher Reeves' head on Superman's body in Superman: Secret Origins) tackle the beginning years of the Caped Crusader.
What does JMS have to say? Well, here's a snippet from his first interview on the subject:
"What I'm trying to do is to dig in to the character and look at him through modern eyes. If you were to create the Superman story today, for the first time, but keep intact all that works, what would it look like?"
"It is monumental for us as comic readers to see Superman birthed for the first time," Davis said. "It's a privilege to realize that you're the artist that gets to draw it, better yet having the luxury to do it in an original graphic novel. This is going to be epic!"
What about Geoff Johns? Well, we happen to have a bit from his first interview as well:
"BATMAN: EARTH ONE allows Gary and I to break the restraints of any continuity and focus on two things: character and story."
Brent Chittenden will have more thoughts coming up in the next few days, but until then, here's some shots of what Gary Frank's Batman and Hardcore Alfred will look like.