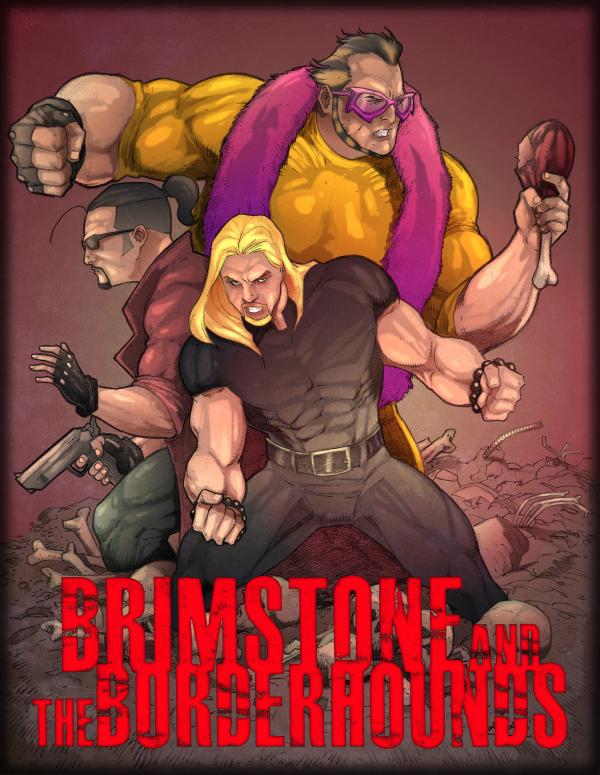 New York, New York January 5, 2011 — Hound Comics is proud to formally announce that its flagship brand, "Brimstone and The Borderhounds" will officially be on the shelves of Barnes & Noble and Book World retail stores nationwide on Tuesday, January 11th!  On this date, the brand new comic book will be available in bookstores as well as online worldwide via Amazon.com.
Hot off the official launch signing held at Borders Books & Music (October 2010 – Westbury, NY) this past fall, the "Hounds" are excited their fans will have full access to their latest endeavor.
"Brimstone and the Borderhounds" is a comic book based on the persona of professional wrestler, Brimstone; although the book itself has nothing to do with wrestling.  The universe surrounding the Borderhounds is a combined creation of lead writer Marcello Carnevali and Brimstone, with the artistic talents of Sajad Shah, Thiago Castro and Allen Chickering.  The book as a whole has garnered a wide range of media attention and extraordinary reviews.
What is so special about this you may ask?  The Hounds have made history by becoming one of the few, if not only; independent comic creators to have its title distributed by the self-proclaimed, "Largest Book Retailer in the World."  Not since Image Comics took a stand in the direction of creator-owned licenses has an indie company declared war on the industry by shouting, "Hey! We are here and we aren't going anywhere!"
Hound Comics is making a major impact and taking the comic industry by storm.  "We are truly looking to raise the bar in terms of quality from the storyline right down to the printing.  This is certainly not your average comic book, we guarantee more bang for your buck!" says Brimstone, lead character of The Borderhounds.
Considering all the 'celebrity' driven media and product these days, it seems rare to have a celeb at the helm that is actually 110% hands on.  That being said, William 'Brimstone' Kucmierowski is determined to chart a path to success for his crew that rivals their counterparts who've cornered the market for several years.  "We are not looking to take the place of the big boys, however we'd like to eventually be considered an equal or an accepted alternative to the 'norm'."
Brimstone and the entire Hound Comics creative team will be hitting the road in 2011 embarking on a promotional tour with the convention kings of comics and pop-culture, Wizard World Entertainment.  "Brim has had a very long and prosperous relationship with Wizard so it would seem only natural to align ourselves with them on such a vital tour.  Wizard conventions are one of the industries best resources to personally meet and acquire direct feedback from our fans," says Carnevali.   The first appearance for the new year will take place in Miami on February 26-27 at the Miami Airport Convention Center where Hound Comics and Floating Pear Productions will offer an exclusive world premiere sneak peek at the title sequence for "Brimstone and The Borderhounds: The Animated Series" with theme music courtesy of Ron 'Bumblefoot' Thal of Guns N' Roses.
One thing is for sure; progress.  A video game being published by SGN Games for future download on both the PS3 PlayStation Network and Xbox 360's Xbox Live Marketplace, the 'Brimstone' action figure in production with Shocker Toys and animated series being produced by Floating Pear Productions.  These Hounds are obviously looking to play ball with the top dogs!