Welcome to This Month in Previews where we take a look at the catalogue that all comic book stores order from and pick out the cool stuff we want and by extension you should want!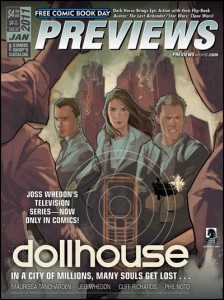 David's picks:
Free Comic Book Day T-Shirt (Page 27, 14.99-17.99)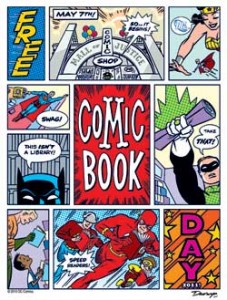 This is just an awesome t-shirt. The shirt that Sergio Aragones did for last year's FCBD was pretty cool but this shirt blows it out of the water. A sleek eye catching design with 3 different colors? Cool enough to make it's way into the everyday clothing rotation.
Batman & Robin Batman Must Die HC (Page 108, 24.99)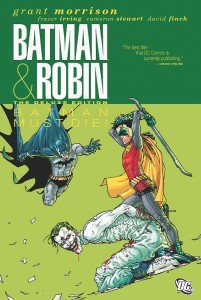 Grant Morrison Batman, that's all that I need to say. Read this and go straight into Batman Incorporated.
The Life and Times of Scrooge McDuck Companion (Page 258, 24.99)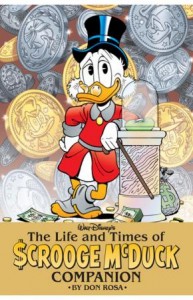 This is a resolicitation from an earlier edition of Previews where the book never seemed to materialize. This is the hardcover version of the softcover Gemstone Book that is now being put out by Boom Studios. Confusing enough? This series of stories by Don Rosa serves to fill in the gaps in the original 2 volumes of the Life and Times of Scrooge McDuck. A must have for any Walt Disney Fan.
Walt Disney Treasury Donald Duck TP vol 1 (Page 258, 24.99)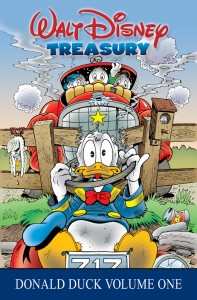 More Walt Disney stuff by the master Don Rosa.
Comic Journal #301 (Page 286, 30.00)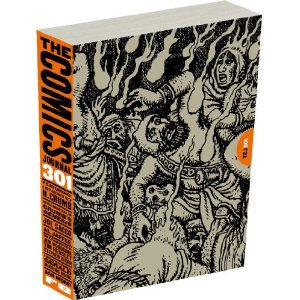 This is the first issue of the new format of the Comics Journal that has now become an annual production. It's a massive 600 page hardcover for only 30 bucks that looks to be jam-packed with interviews and essays about all kinds of comics. Given the quality of previous issues, I can only expect the quality to jump up given the production time allowed.
Astonishing Love: The Golden Era of Romance Comics (Page 335, 29.99)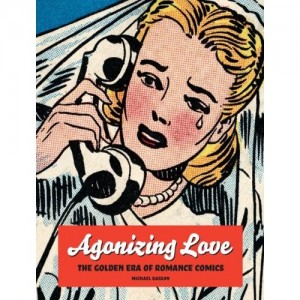 I love romance comics, call me sappy but I am always intrigued by the covers of these books. This book offers complete stories as well as reproductions of the vintage advertisements and reader mail. I can't pass up this kind of material given how difficult it is to get my hands on the original stuff.
Futurama Plushies (Page 360, 29.99)
Futurama Talking Bender Action Figure (Page 360, 19.99)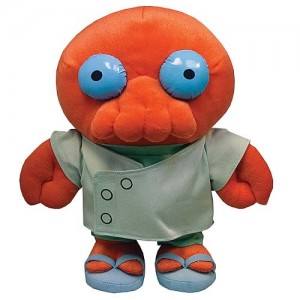 A talking replica of the coolest booze drinking robot ever? Booya. And supercute plush versions of Zoidberg and Nibbler? Can't be beat. The main problem is that they're a little pricey given their size but meh, I'll bite the bullet.
Megaman Plastic Model Kit (Page 391, 29.99)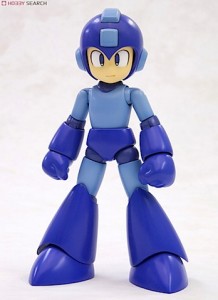 Mega Man is one of the most iconic video game characters for those that grew up in the 80's and 90's of Nintendo gaming. A classic styled plastic model kit to put on the table is mandatory for anyone who even considers themselves a gamer.
Jill's Picks:

Song of Ice and Fire RPG Chronicler Starter (Page 416, 25.95)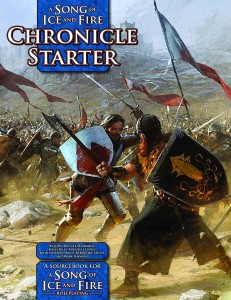 Who can pass up an RPG based on George RR Martin's A Song of Ice and Fire?  I admit to be completely addicted to this epic fantasy series (which will air as an HBO series on April 17th). The world is well built, the characters are complex, and good and evil are a matter of perspective. I don't even play RPGs but I am determined to give George RR Martin all of my money.
Thor Movie Mini-Mates (Page 357, 8.99)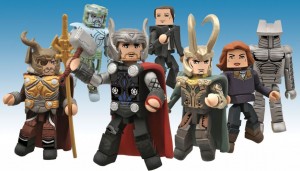 I'm a sucker for mini-mates but usually forgo the movie tie-ins.  I can't, however, pass up owning a tiny Anthony Hopkins.
The Walking Dead Etched Steins (Page 406, 29.99)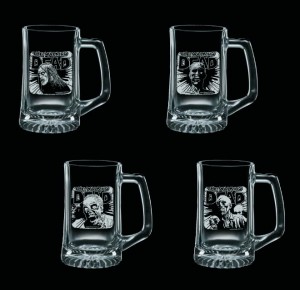 Drinking beer out of zombies?  Yes Please.