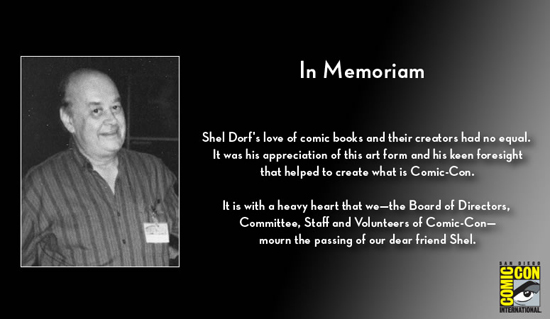 Sad news today for comic fans as a pioneer passed away Tuesday. Sheldon Dorf; the man who founded the San Diego Comic Con passed away due to diabetes related complications. Sheldon founded the Comic Con in San Diego in 1970 which was called the Golden State Comic Con back then, he then spent the next 15 years as the head of the con helping to grow the convention into the media powerhouse it is today. Now; the San Diego Comic Con draws well over 100,000 attendes annually from areas of comics, film and television. ComicBookDaily salutes the man who helped found one of the greatest comic conventions in the world.
Here's an excerpt from The San Diego Union-Tribune's lengthy tribute to Shel:
Dick Tracy, Charlie Brown, and the entire comic strip pantheon lost a friend yesterday, with the death of a Comic-Con founder. Sheldon "Shel" Dorf succumbed to diabetes-related complications at Sharp Memorial Hospital. Mr. Dorf, a resident of Ocean Beach, spent 15 years as a leader of the annual convention, serving on its organizing committee. But even before and after his time with the Con, Mr. Dorf was a tireless promoter of comics, their creators, and fans.
"The guy just lived and breathed comics his whole life," said Mark Evanier, a TV and comic book writer. "The Con was built on his passion and his cheerleading."
A prominent collector of "Dick Tracy" comics and memorabilia, Mr. Dorf had run Detroit's "Triple Fan Fest," a convention dedicated to comics, science fiction, and movies. When he met Ken Krueger, owner of Alert Books in Ocean Beach, they and a band of teenaged enthusiasts began planning something similar for San Diego. This unpaid, ragtag group organized the first Golden State Comic-Con, at the U.S. Grant Hotel, Aug. 1-3, 1970.
"He was a completely generous person who was wholly devoted to furthering the comic arts, bringing the fans and the professionals together," said J.M. "Mike" Towry, a computer programmer who was a young comics dealer at that first Con. "He never made a dime off Comic-Con."
In fact, Mr. Dorf walked away from the Con in the mid-1980s, as it was beginning to become the nation's foremost pop-culture extravaganza. Today, Comic-Con is San Diego's largest convention, annually drawing 125,000 attendees.
"We had no idea it would get this big," Mr. Dorf told The San Diego Union-Tribune in a 2006 interview. "To me, it's just become an ordeal. I don't know of any way to make it smaller, though. I guess in some ways it's become too much of a success." But he remained a friend of comic creators, and often attended the Con to cheer them on.
Mr. Dorf, who never married, is survived by his brother.