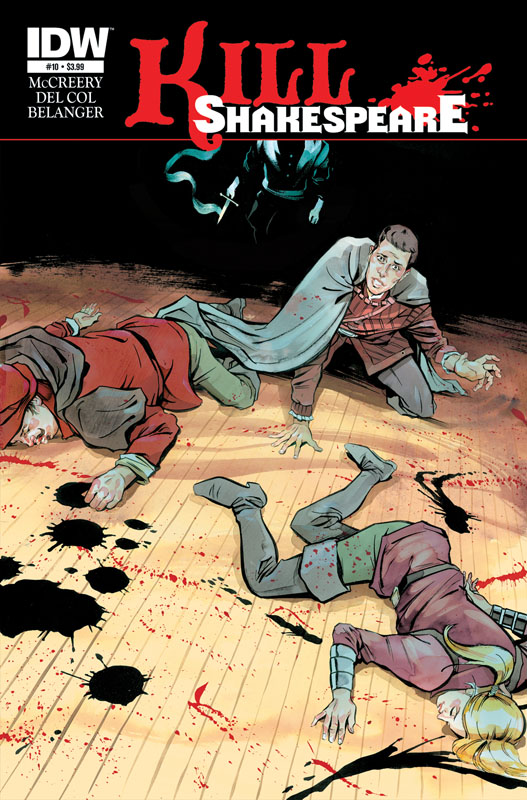 The creators of IDW's highly successful series Kill Shakespeare, will be killing off one of the Bard's greatest creations in the series' tenth issue.
"With the murder of Julius Caesar famously taking place on the Ides of March we thought it only fitting that we too conspire to kill a legend," said series co-creator Conor McCreery in a media release. "We think Shakespeare would approve. After all, he may be the greatest literary mass-murderer in history, but even he would be shocked with what we have in store for his characters."
Speculation is sure to run rampant until the issue's release, but the creators are encouraging fans of the series to take part in online polls on killshakespeare.com and the series' Facebook page to offer their thoughts on which main character will meet their tragic end.
Kill Shakespeare's tenth issue is slated for release on April 20, 2011 in comic book shops.
Cover Contest
The series creators will also be offering an opportunity to talented artists with  a contest that will see the winner's submission included as a variant cover for issue 11 of the series.
"Since we're new to the world of comics we wanted to give another 'unknown' a chance to make their name," said series co-creator Anthony Del Col in the media release. "We think this contest is going to uncover a major new talent for the industry."
The contest is open to artists without a professional credit in the comic book industry; artists may enter at any one of the 11 top comic book shops in North America.
For more information on the contest, visit killshakespeare.com for details.