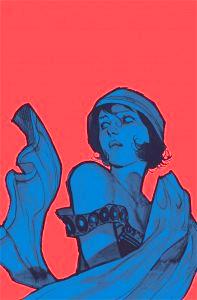 If you don't think the title is witty it's probably because you didn't know that Stephen King is going to be writing his very own Vampire comic book. So now that you know that bit of tidbit, go back – read the title and start laughing.
Any way, here's the official press release:
Celebrated short story writer Scott Snyder and artist Rafael Albuquerque will launch a new monthly comic book series from Vertigo in March 2010 with a unique contribution from New York Times bestselling novelist Stephen King. The new ongoing series, American Vampire, will introduce readers to a new breed of vampire – a more muscular and vicious species of vampire with distinctly American characteristics. The series' first story arc, to be told over the course of five issues, will feature two different stories, one written by Snyder, the other by King.

Snyder's storyline is one of decadence and deception and Jazz Age glamour. Pearl is an ambitious modern woman with starlet dreams. She frequents Hollywood's speakeasies and dance-halls searching for her first big break, only to find something far more sinister waiting for her.

King's story provides the origin of the very first American vampire: Skinner Sweet, a bank robbing, murdering cowboy of the 1880s. Skinner is stronger and faster than previous vampires; he has rattlesnake fangs and is powered by…. the sun?

Following the conclusion of the first story arc, Snyder and Albuquerque will trace Skinner's bloodline through various decades of American history.

"Getting the chance to re-imagine a classic monster-to invent a whole new mythology and secret history-nothing could be more exciting for me . . . except getting the chance to do it with Stephen King at Vertigo.I honestly can't think of any influences more crucial or enduring for me than Vertigo and Stephen King. To have them both involved in American Vampire, along with the amazing RafaelAlbuquerque-this all a dream come true for me!" – Scott Snyder

"I love vampire stories, and the idea of following the dark exploits of a uniquely American vampire really lit up my imagination. The chance to do the origin story-to be 'present at the creation' – was a thrill. I owe big thanks to Scott Snyder for letting me share his vision, and sip from his bucket of blood." – Stephen King

"In a time where vampires are everywhere, Scott and Stephen seem to have done the impossible: An original, inventive and detailed new series. It's a challenging and exciting project I'm proud to be working on." – Rafael Albuquerque

"Publishing a series with a fresh take on the vampire mythos would be incredible enough, but adding the talents of Scott Snyder, an exciting new voice in fiction, and Stephen King, the master of horror himself, is beyond awesome. We are thrilled that Vertigo is the home for this special new work, which we're certain will be a major addition to the timeless and popular appeal of vampire lore everywhere." – Vertigo Editor Karen Berger
Sounds like it's going to be really good. I remember reading somewhere that King was upset with the portrayal of vampirism in mainstream culture. Feeling that the Twilight novels sort of diluted what was once the king of the monsters. I'm pretty excited, plus it's always great to see Rafael Albuquerque's work, which I personally feel is just a really fun style. While I'm unfamiliar with Snyder, King has always been pretty good in finding and then fostering new talents, so I don't doubt that his – especially that it takes place in the 1920s – will be a really excellent and inventive take. Here's some sample art from the series
Pete DeCourcy is a contributor to Comicbookdaily. He has tried to get through Stephen King's the Dark Tower but only got through the first book. if you have any questions or comments feel free to email. He Tumbls Here.