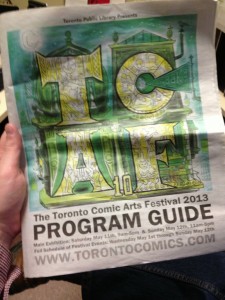 The Toronto Comic Arts Festival celebrated its tenth anniversary this past weekend and was a grand event in and around the Toronto Reference Library. Like all comic shows I attended in the hopes of interacting with favourite creators and scoring some original artwork.
But, TCAF is not like most comic shows. First off it's a free event, paid for by grants and sponsorships. Second it's in a public space, and third any notion of superheroes is actively squashed. It's also an extremely organized show with lots happening, all of which is documented on the website and in a free newspaper handed out to everyone at the entrance.
You don't pay for a table but you do need to submit a request for space or get invited, if you're a big enough name. I've heard rumors anyone who does a superhero book for the big publishers doesn't get approved or invited, but that's unconfirmed. Creators who straddle both worlds with mainstream and indie work published do appear, such as Paul Pope and Jeff Lemire. Although I didn't see anyone from Toronto's RAID studios in the RAID section who is currently working on a superhero book…
Being free the show gets crowded. Very crowded. This is exacerbated by the relatively small table space each exhibitor gets. It's a lot tighter than any show I've been to and makes for difficult navigation since there is no room to have any kind of line at the tables. The way to beat it is to arrive early, leave the show during the afternoon for a great Toronto lunch and come back later on. Saturday afternoon there was a line of at least 200 people waiting to get into the Appel Salon upstairs.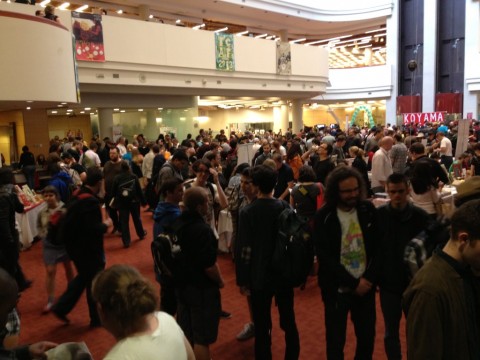 TCAF focuses on indie and non-mainstream comics and creators, and to be honest that's not really my interest. While I don't read much if anything from Marvel or DC I enjoy non-superhero works from Image, Dark Horse, Humanoids, Fantagraphics, IDW, and many more. I guess that makes me a mid-stream reader, foregoing all imagery that might conjure. After the show Saturday a bunch of us went out and they were sharing in the small press and self-published works gleefully purchased that day and I realized I wasn't a fan of any of it.
What then brings me to TCAF every year?  Fantagraphics, SelfMadeHero and Blank Slate are three publishers whose work I really enjoy, and they have a lot of their catalogue available for browsing. And that is a strong reason to attend: the chance to look at books that are rarely carried by retailers. Flip through them, get a feel for the work and experience what you probably only saw as a cover on a website. Plus these publishers usually bring along creators to sign and sketch in their books.
At 9:00 AM on Saturday I walked up to the Fantagraphics table and had a little chat with Jaime Hernandez. Nobody around, no real crowds yet, just the two of us and a few books I brought along to get signed. As I wandered around the room I ran into more and more creators. Because of the volume of people moving through not many were sketching, so hopes of expanding my Buck Rogers art collection evaporated.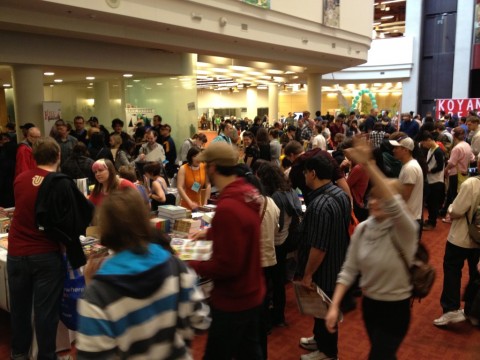 Faith Erin Hicks signed my copy of Superhero Girl and we chatted about Fan Expo. She won't be attending this year, saying while she did well selling material and signing it was too big for her; she likes the feel of a small show.
Paul Rivoche, always polite and remembering my name, is working on a graphic novel. No sample pages but he's dealing with a large publisher who hasn't decided on a release date.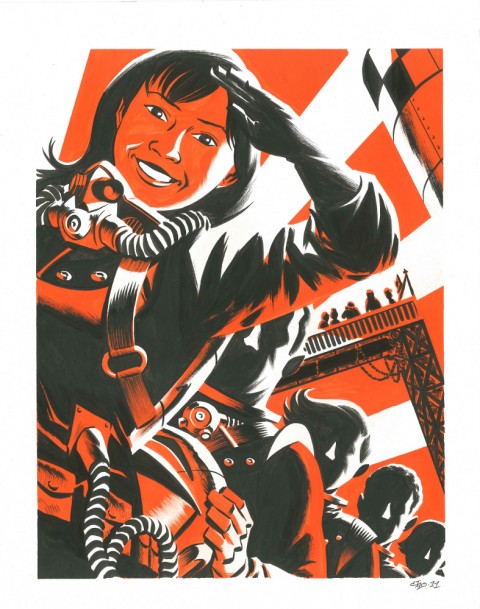 Michael Cho, my favourite local talent, is also working on a graphic novel and doesn't have an English language publisher yet but does have a French publisher. He just finished a World's Finest eight page story with Chipp Kidd but I have no idea where it will end up. He was selling some original art and I picked up the above piece, an article splash from aiCIO magazine.
Karl Kerschl had a stack of Abominable Charles Christopher Vol 2 hardcovers at his table so I picked one up and had it sketched. He's working on Assassin's Creed for the foreseeable future.
Lots more at the show but it got crowded and people had less time to chat. I did see a lot of people milling about, such as Tom Spurgeon, Chris Butcher, Bryan Lee O'Malley, Seth, Chipp Kidd and more. There is a lot of talent at TCAF, even if they don't have a table.
As I peruse the program guide I realize how many events and creators I missed out on. As the crowd thickens you can see less and less of who is at the tables. Next year when I walk in I'm going to immediately sit down with the guide and mark off everything and everyone I want to see.