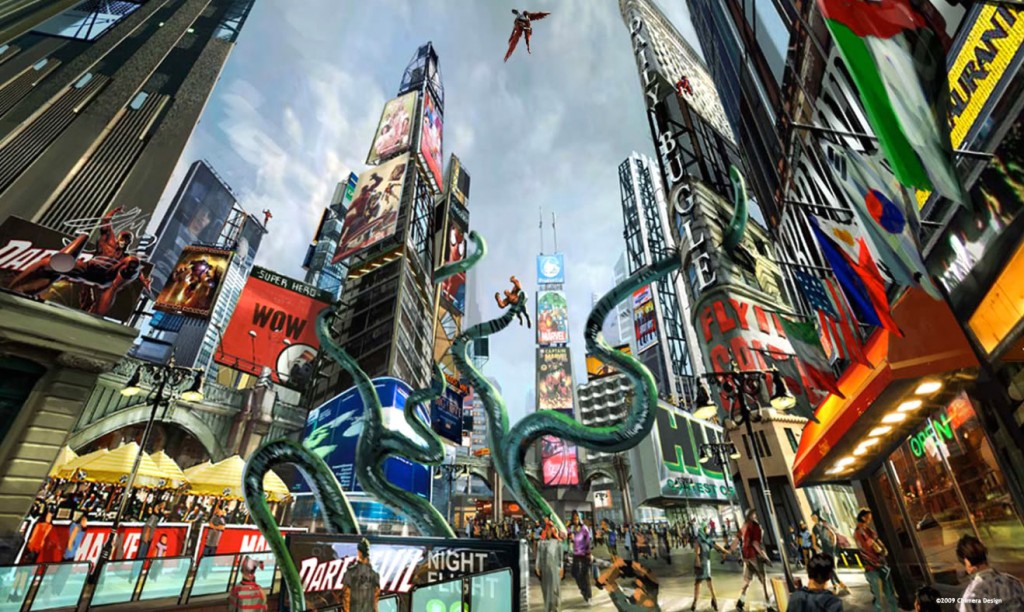 Start saving your pennies, 'cause we're all going to Marvel's New York (and Wakanda.. and maybe Atlantis… and Latveria) in 2012. And it's all going to be in Dubai. Marvel is going to have it's first ever theme park built in the one of the richest places in the world!
The $1 billion park, the first of its kind in the region, is being developed by  Marvel Entertainment Inc and UAE-based construction and real estate company Al Ahli Group.
Marvel currently owns a superhero island and rides at Universal Studios' parks in Florida, California and Japan, but the Dubai park will be the company's first full theme park and the largest outside the United States.
"Marvel is a brand that is recognized globally via its ever expanding list of superhero characters," said Mohamed Khammas, head of the Al Ahli Group, in a statement. "Now, it won't be much longer until the children in Pan Arabia and the world can experience new and exciting rides with Marvel's Spider-Man, the Incredible Hulk, the Fantastic Four and many other superheroes right here in the UAE."
The companies said the park will set a new standard for theme parks worldwide and will include new technology and unparalleled visitor experiences.
Which sounds like it's going to be pretty damned fun, of course it's going to cost an arm and a leg to go there, but I'm sure that we'll all have a good time – especially if this concept art work [via Chimera Designs] – discovered by the Disney and More blog – is any thing to go off of. The lush illustrations include a map of the $1-billion park — it's divided into four "lands," with Crater Lake at the center — and renditions of the entrance, the City of Super-Heroes and Oasis of Magic.