Official Press Release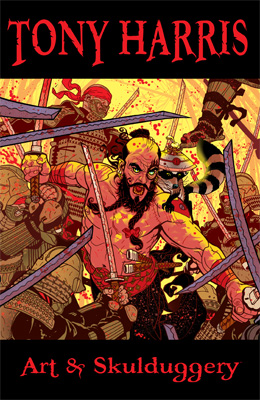 IDW Publishing and Desperado are proud to debut the new Desperado imprint in March with the launch of Tony Harris: Art and Skulduggery. The fifth installment of Desperado's Eisner Award-winning art books series, this oversized hardcover edition offers a complete retrospective of Tony Harris's career, celebrating his twenty years in comics. A special edition of Tony Harris: Art and Skulduggery will also be available, signed by Harris and numbered to 500.
An Eisner recipient himself, Harris has been a major force in the comics industry for over twenty years. Harris's art has graced the pages of thousands of well-known series, including Starman, Iron Man and Ex Machina. Tony Harris: Art and Skulduggery showcases the work of this seminal artist, with character designs and concepts, sketchbook pages, personal photos and beautifully reproduced art from throughout his career.
"Tony Harris is an important artist in comics, and this series is an impressive tribute to his work," said Desperado founder, Joe Pruett. "Focusing on such a presence in the industry, Tony Harris is the perfect way to begin our Desperado imprint."
Founded in January 2005 by Eisner Award-winning comics veteran Pruett, Desperado quickly established itself as a high-end publisher of art books, graphic novels, and comics. Desperado titles have been nominated for five Eisner Awards and won two since 2007, and repeatedly feature the comic industry's top creative talent.
The Desperado imprint at IDW will continue to offer the high quality books and feature the talented creators for which Desperado is known. In addition to Tony Harris, the 2010 line up already includes industry greats, such as Dave Dorman and George Perez.
Tony Harris: Art and Skulduggery ($49.99, 312 pages, hardcover) will be available in stores in March. Diamond order code JAN10 0998; ISBN 978-1-60010-719-1
Tony Harris: Art and Skulduggery Limited Edition ($79.99, 312 pages, hardcover, signed and numbered) will be available in stores in March. Diamond order code JAN10 0999; ISBN 978-1-60010-720-7