Art Director, Editor and Artist Mark Chiarello is responsible for many beautiful things: the recent Wednesday Comics, DC Comics' ill fated – but absolutely wonderful – anthology Solo, Jeph Loeb and Jim Lee's Batman epic Hush as well as the phenomenal series Batman: Black and White.
And now he's doing one of the covers to the 40th edition of the Overstreet Price Guide. Man, this guy needs to be doing more interiors, his work is absolutely beautiful. Like a blend between Toth and Mazzuchelli.
Check it out, and the press release below: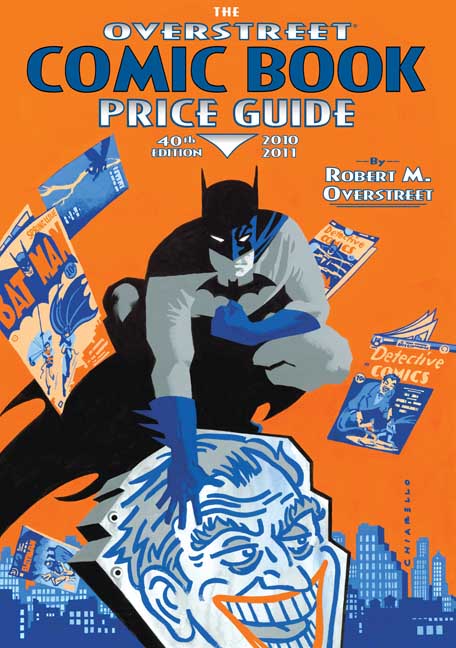 We told you a few weeks ago that one of the covers for The Overstreet Comic Book Price Guide #40 was being illustrated by acclaimed artist Mark Chiarello (Batman/Houdini: The Devil's Workshop), best known to many as DC's DCU Editorial Art Director and as the Editor of Wednesday Comics.

Now we're happy to give you a first look at his efforts!

We knew it was a winner when Mark described what he had in mind, but from Steve Geppi and Bob Overstreet on down, we were blown away by the finished product.

We hope you enjoy it, too. The logo, by the way, is by our own Mark Huesman.

There might be a few tweaks before you hold the final product in your hands, but we just had to share it right away… You'll be able to find The Overstreet Comic Book Price Guide #40 in the March 2010 issue of Previews, and it will go on sale Wednesday, July 21, 2010.