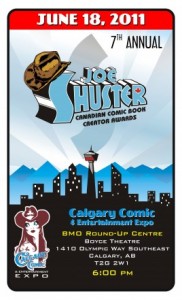 The winners of the 7th Joe Shuster Annual Canadian Comic Book Creator Awards were announced June 18 at the Calgary Comic and Entertainment Expo. The awards highlight from coast to coast the Canadian comic book industry's top talent and recognize and celebrate both written and artistic achievement.
Winners include: Francis Manupaul (Adventure Comics, The Flash, Batman/Superman), Outstanding Comic Book Artist; Baba Yaga and the Wolf (TIN CAN FOREST aka Pat Shewchuk and Marek Colek), Outstanding Comic Cartoonist; Julie Rocheleau and Emilie Villeneuve (La Fille Invisible, Published by Glent Quebec), Outstanding Comic Book Colorist and Writer; and Fiona Staples (Mystery Society, Acts of Violence, Magus), Outstanding Comic Book Cover Artist to name a few. The rest of the list can be seen here.
The awards changed format in 2007. Before then the public would vote, today the winners are chosen by a carefully picked jury.
The Joe Shuster Awards are named after Canadian artist Joe Shuster (1914 – 1992) who co-created Superman with Jerry Siegel in 1938, a title that would turn comic culture into a pop culture phenomenon. The awards celebrate comics as a collaborative medium. Legendary comic creators like Jerry Robinson, Neal Adams and Dave Sim have been associated with the awards as an organization since it's beginnings.