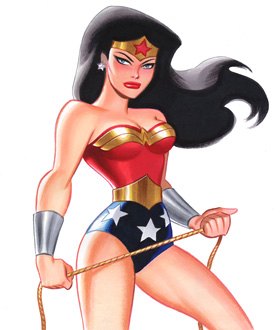 Would you want to watch a Wonder Woman TV series? Well, I sure hope so because that's what we're getting according to The Hollywood Reporter.
Warner Bros. Television is developing a modern-day reboot of the classic DC comic book heroine and is lassoing an unlikely talent to potentially write and produce the superhero project: David E. Kelley, the showrunner behind legal dramas such as "Ally McBeal," "Boston Legal" and "The Practice."
That's not really a whole lot of information to go on at the moment, but I just have to wonder why Wonder Woman? I know that she's supposed to be one of DC's big trinity and a leader of female characters but the problem is that she's just not that interesting! I've ranted many times about her terrible rogue gallery and her convoluted origins. If you go down the street and ask someone what Batman, Superman and Wonder Woman's origins are. You're going to get: kid sees parents shot, last survivor of doomed world and a blank stare. But enough about the shortcomings of Wonder Woman as a character, let's talk about her shortcomings as a potential TV series.
Who do you think would be a good actress for Diana? I don't keep up with current people so I would simply choose whoever is most attractive to me right now. How about Olivia Munn?
As for writing, we don't even have anyone attached at the moment. My first thought would have been to Joss Whedon given his ability to write strong female leads in shows, but unfortunately or maybe fortunately, he's working on the Avengers movie and his original ideas for Wonder Woman were rejected.
"They just didn't like my take," Whedon said at the time. "It's pretty simple."
So one of the best writers in this genre of stuff got rejected? Who else could do a better job than Joss? What are your thoughts on this? I think they would be better off doing a Batman TV series but like a super gritty one on HBO or something like that. Tell us your thoughts!