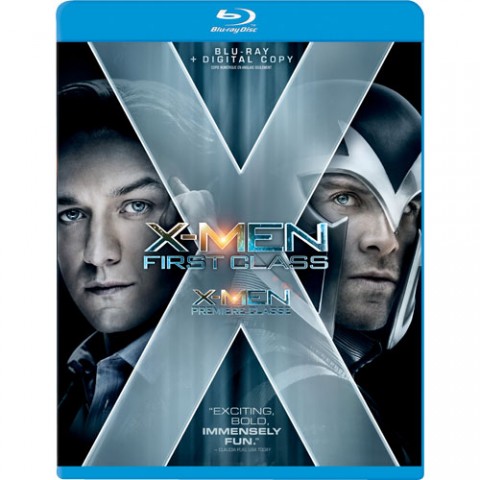 X-Men First Class is available on Blu-Ray and DVD tomorrow (Sept 9/11).
Some of the special features include Cerebro Mutant Tracker (a BD live feature), X Marks The Spot (an "in-film" feature that includes bonus scenes and making of featurettes), Children of the Atom (behind the scenes making of the film), and a code for redemption of 10 free Marvel digital comics (availability depending on region).
This relaunch/prequel of the X-Men film franchise is a must own for all comic book movie fans.
I know I will be waiting in line to grab my copy tomorrow.
One of my favourite aspects of X-Men First Class (XFC) is that the film takes place during the 60's.  The movie replicates the fashion, language (groovy), and politics of the era.  Plus with mutants being involved during the Cuban Missle Crisis add a different take to that time in history.
James McAvoy and Michael Fassbender were perfectly cast as Xavier and Magneto in this movie.  Magneto Origins was originally supposed to be released after Wolverine Origins, but Magneto's origin in XFC is done almost perfectly.
This movie is a solid starting point for a new X-Men film franchise.  They could have waited until the second movie to split up the X-Men team, but you know that XFC-2 will jump straight into the action of Xavier's X-Men fighting Magneto's Brotherhood.
If you haven't seen XFC yet, keep your eyes peeled for cameos of some of your favourite mutants, including an appearance from everybody's favourite Canadian mutant.