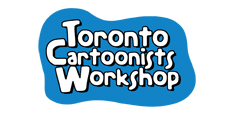 Like a lot of people, I've thought about writing comics.  Sometimes, while riding the subway, I'll come up with characters and give them superpowers. Other times I'll take my favourite characters and put them in new situations (What would Wolverine be like if he was a knight in medieval Europe?)  I've even dabbled in the dreaded 'fanfiction'.  I have friends who are artists and we talk about starting a strip, or a book, or a webcomic, but never talk too seriously. Comics are made in other places, like New York City, not here. I never believed it was actually possible. That was until I took a class from the Toronto Cartoonist Workshop.
Toronto Cartoonist Workshop, coordinated by Walter Dickinson, runs a variety of 8 week courses based on different aspects of comics and cartooning, and is taught by working professionals in the industry. Faculty includes Ty Templeton, Sam Agro, Ramon Perez, J. Bone, and Pat Davidson. Who knew there was so much talent in the GTA?  I was given the opportunity to sit-in on 2 of the 3 courses held last semester, and the ride is well worth the price of admission.
Writing for Comics: Finding Inspiration on a Schedule with Ty Templeton
Writing for Comics is an expansion of Ty's popular Comic Book Bootcamp, and covers everything from basic structure to layout, dialogue, voice, and karma. He even answers a writer's most asked question (Where do you get your inspiration?) by divulging 6 inspirational wells every writer can use.  Ty Templeton is not afraid to tell it like it is.  He knows what the industry is looking for and gives you the tools to get you there.  If your ideas are good, he'll tell you.  If they don't work, he'll tell you. Either way he'll give you suggestions to make them better.
I've talked to authors before, and have even read a few books on professional writing, so I thought I had an idea of what to expect coming to this class.  I was wrong.  This isn't a class where you spend time crafting an epic masterpiece week after week or discuss lofty ideas of what makes great writing.  Ty Templeton strips it down the bare bones and builds us up from there.  It's down and dirty and you have to think on your feet.  After each lesson you get 10 or 15 minutes to come up with an idea, and pitch it to the class. Sometimes is just a character or a title, others it's a concept or a scene. In each class you're actually forced to do—Plunge in head first.  It may be scary, but it works.  Ty Templeton doesn't believe in writers block, only poor writers.  He gives his students the tools needed not to fall into that category.
Comic Book Inking: 4 Perspectives with J. Bone, Ramon Perez, Ty Templeton & Pat Davidson
I can tell you right now—inking is more than tracing.  Inkers create texture, movement, light and shadow in otherwise flat panels.  They can take a decent page and make it fantastic.  A simple brush stroke can change the entire feeling of the drawing.   I was completely intimidated walking into this classroom.  The last time I'd been in a formal art class was high school, and I didn't even know what medium inkers worked in.  Do they actually use ink? (Yes)  Do they use marker? (Yes)  Isn't everything digital now anyway? (No)  I could barely hold a brush without my hand shaking.  By the end I was at least attempting to ink the blue lines, handed out by each instructor. Where they good?  Not by a long shot, but I was improving, in 3 short classes I was improving.  Each instructor brought his own style to the class.  Some used brushes, others didn't.  Some inked free-hand, while others used rulers and curves.
Like, all Toronto Cartoonist Workshops, the class focused on actually creating.  Instructors handed out copies of blue pencil pages.  Some were simple while others were challenging even to the instructors.  Each student took their time and made their own choices.  It is amazing how different pictures can look in the hands of different inkers.  Ramon Perez and J. Bone returned for the final class and critiqued the student's work.  How often do you get one on one feedback from 2 professionals?  Stay tuned to comicbookdaily.com for my Spotlight on Inking.  You'll get to see some of the art produced in this class, and maybe even some of my failed attempts.
To anyone contemplating taking one of these classes (and if you're not, you should be) there are three things that set this program apart from others.
1. The Instructors: Not only are they professionals in the industry, but they also care about comics as much as we do. We've all sat through boring lectures by people who just don't want to be there.  These people enjoy what they're doing and want help you succeed. Every class you get to talk and ask questions. The small class sizes make one on one time nearly unavoidable.  Plus, you get to hear insider stories, and that's always fun.
2. The Students: From the moment you step into the room you can feel the camaraderie. I only attended 3 classes but was accepted as part of the group.  The experience of the students varies.  Some have been published here and overseas while others have only shown their closest friends what they're working on, but everyone's there for the same reasons.  More than once class ran long without as much as a whisper from the class.  No one shuffles papers or looks longingly at the clock.  They'd rather catch the next subway train than miss out on the final bit of information.
3. The Connections: Not only are these workshops a place for learning new skills, and perfecting your craft, but also networking.  You can find out what other students are working on and get the word out about your future projects. Artist, inkers, and writers can find someone to collaborate with.  Walter Dickinson does everything he can to help new and upcoming creators. More than anything, The Toronto Cartoonist Workshop wants to help new and upcoming Canadian talent.  What better place to learn?
Next Semester's Courses are:
Ty Templeton's Comic Book Bootcamp Level One
Kidding Around: Writing Comics for Younger Readers with Sam Agro
Professional Layout and Story Telling for Comics and Graphic Novels with Ty Templeton
Contact Walter Dickinson at [email protected] or by calling 647-502-7605.
For more information visit  http://cartoonistsworkshop.wordpress.com/ or find them on facebook.
I'll be attending Ty Templeton's Comic Book Boot Camp and documenting my experience at www.pagesandponderings.blogspot.com  I hope to see you there.
Jill Nagel is a correspondent for Comic Book Daily and is known to be a master of foam sword fighting on the weekends.