It's no secret that Guy Davis is one of the best artists working in comics today. He's well known for his legendary run on BPRD as well as one of the most underrated series of the 90s, Sandman Mystery Theatre. His design work on BPRD offered up some of the most grotesque and memorable monsters of the last twelve years. His style is known for it's scratchy realism and it's ability to convey facial expressions that seem to make even the most cannibalistic creature seem humane.
He's also a helluva nice guy.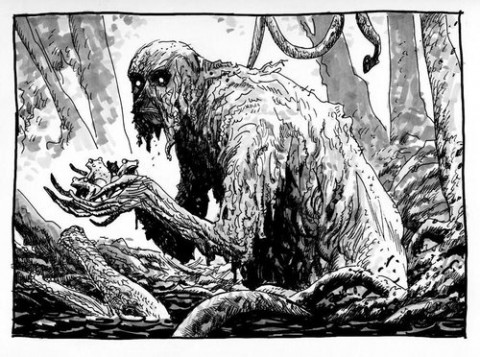 Above is a sketch he did of DC's Swamp Thing. A much different take on the character and one that I think really conveys the horror sensibilities of the vegetable possessed with the memories of a man.
Obviously this takes Totleben and Bissette's vision and runs wild. Offering us a true monster.
Hopefully we'll see something similar to this on Yannick Paquette's end, but I think they'll stay towards an easily marketable smooth version.
It's a shame.
[Thanks to AW YEAH COMICS! for the image.]