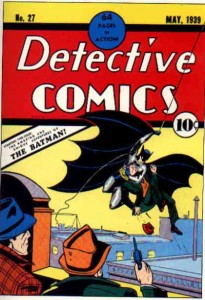 Detective Comics #27, DC Comics, (May 1939) Graded by CGC at 7.0 with Off White pages sold for $492,937.00 (including the buyers premium) on Heritage Auctions on November 17th.
Detective Comics #27 is considered by many to be the second Holy Grail of comic book collecting (behind Action Comics #1). Another copy of this comic book made news early in 2010 when a CGC graded 8.0 sold for $1,000,000. The strict Overstreet Price Guide value of a 7.0 copy of Detective Comics #27 is $367,500.00. The sale price thus represents a 34% premium over guide.
If you ask me this result was a bit disappointing though 84 year old Robert Irwin is probably not complaining. Mr. Irwin purchased the comic off the newsstand for a dime back in 1939. Still this comic book boasts a 7.0 grade with excellent Off White page quality and in light of an 8.0 copy realizing just under double the Overstreet Price Guide value earlier this year I'd say the buyer got a deal.
Advantage buyer.