Auction Highlights #76, Comic Link February Featured Auction
The Comic Link Featured Auction has just ended, all results below ended between Tuesday February 26th and Wednesday February 27th.
Now this was a good auction. ComicLink did a great job bringing out a diverse cross section of keys, high grades and Golden Age books not to mention some superb original artwork.
comics in this auction were Marvel keys, all by the way present on my old "What are the Marvel Keys?" post.
Fantastic Four #1 CGC 9.0 – $97,000, X-Men #1 CGC 9.4 – $90,000, TOS #39 CGC 9.4 – $90,000, Avengers #1 CGC 9.2 – $46,000, ASM #1 CGC 9.0 – $42,900 and Strange Tales #110 CGC 9.6 – $36,569 were the top seven comics in this auction.
All Winners #1, Avengers #4 and Captain America #2 rounded of the Top 10 giving Marvel/Timely a clean sweep.
Conspicuously absent from this auctions top 50 was DC Silver Age, only a CGC 9.0 copy of Flash #105 placed. Perhaps this is more a reflection of scarcity of offerings, I'm sure a nice tight Brave and the Bold #28 or a solid Showcase #4 would have done just fine.
Amazing Spider-Man maintained his dominance of the back issue market. Of the top 50 comics 8 features Spider-Man and hogged $232,000 of the $1,008,000 the top 50 books earned. That's 16% of the books earning 23% of the money. Hey remember my old post that talked about how Spidey rules the back issue market, just sayin.
A common subject on my Auction Highlights as of late has been how well the CGC 9.9s have been doing and this auction was no different. The top CGC 9.9 this time around was a fetching looking ASM #125, it got $4,700 and it just nipped a very tight New Mutants #98 which got $4,600. Crazy CGC 9.9 prices included $1,901 for an Iron Man #282 and $1,301 for a Daredevil #191 (more on the DD #191 below).
I've had a few guys ask if I could check out how the CVA books have been doing (for some CVA background check out my interview with CVA's Joseph Veteri).
In my poking around I found that 12 of the top 120 comics had a CVA label, that's 10% of the listings. I expect that percentage to grow in auctions to come.
Well I had a hell of a time trying to muster some concrete data. So here I'll present the extremely unscientific results attained most haphazardly by poking around the auction results for all of a half hour.
I disregarded all comparisons where there was only 1 or 2 sales to compare against. I tried to find examples of recent sales averages that averaged out many sales and compared them to the CVA sale in this auction. Remember though that some of the sales in the averages may have been CVA books.
I'd also like to note that the 2 examples below saw what appears to be benefit from the CVA sticker. Not all books enjoyed guaranteed success from the sticker, many of the results were inconclusive and many more did not have enough good comparable data, a few like Strange Tales #135 in CGC 9.6 went down a bit.
OK so here are a few results that caught my attention.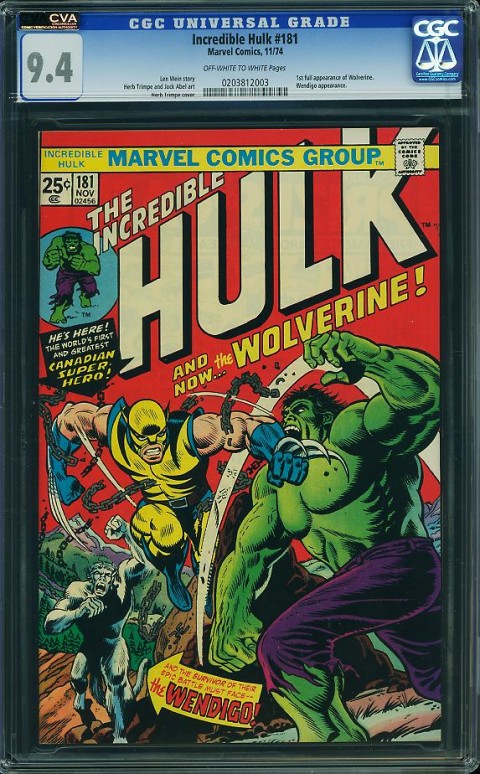 Incredible Hulk #181, Marvel Comics (November 1974) Graded by CGC at 9.4 with Off White to White pages sold for $3,233.00. The Overstreet price guide value for this comic at 9.2 is $1,725.00.
The most glaring example of what seems to be a positive CVA effect on price is this auction here. According to GPA the 12 month average for this book is $2,703 and that is based on a healthy 30 sales. That's a nice 20% premium above the current trend.
Compare that to the CGC 9.6 copy of Hulk #181 (no CVA sticker) that closed at $4155.00. This is a 1.6% increase over the GPA 12 month average.
All other things being equal I'd say the CVA sticker helped this book!
I still think there are a lot of nice CGC 9.4 Hulk #181's out there with no CVA sticker and these can be bought (for at least the next little while) for hundreds of dollars less.
Advantage Seller.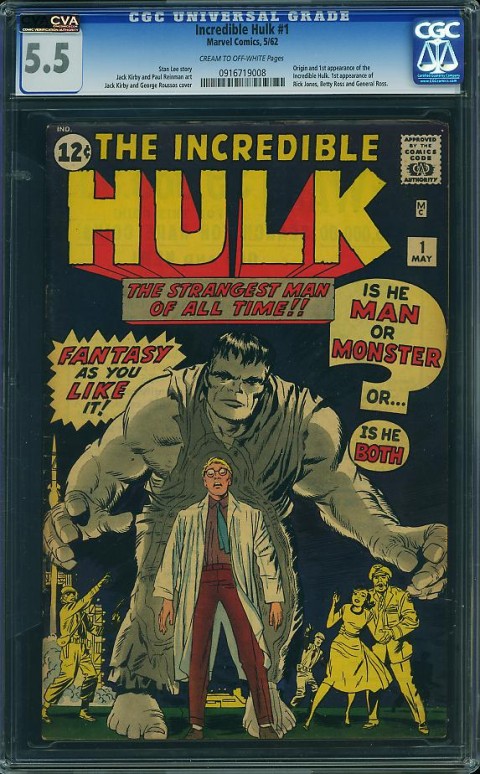 Incredible Hulk #1, Marvel Comics (May 1962) Graded by CGC at 5.5 with Off White to White pages sold for $8,250.00. The Overstreet price guide value for this comic at 5.5 is $4,950.00.
It seems the CVA sticker helped this CGC 5.5 Hulk #1 as well. The $8,250 it earned is 33.6% above the 12 month average (only 3 sales) of $6,174.00. Now Hulk #1 is on the upswing but still this increase easily beats the 22.7% increase the book enjoyed in this grade from 2011 to 2012.
I like the grade, I think 5.5s can get overlooked and picking a tight looking one can get you some good deals especially on key books.
Man his book looks good, on the surface I think this looks much better than the 5.5 grade assigned. I don't have the benefit of the notes on this book but I'd say it looks undergraded.
Advantage Buyer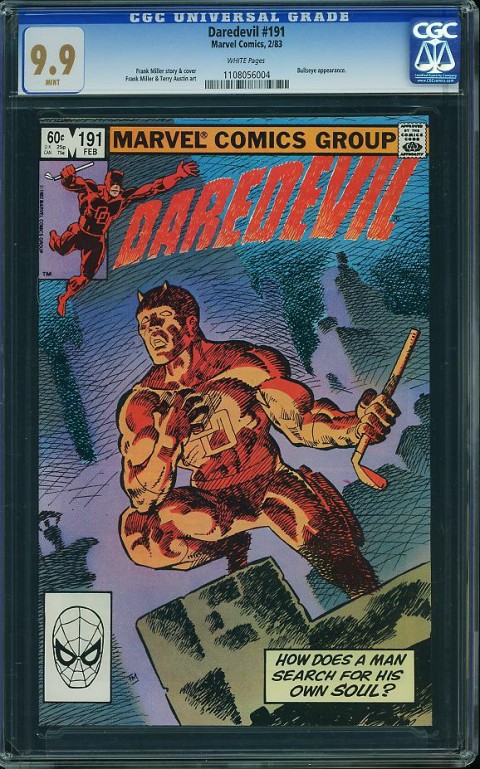 Daredevil #191, Marvel Comics, (February 1983) Graded by CGC at 9.9 with White pages sold $1,301.00. The Overstreet price guide value for this comic at 9.2 is $12.00.
You know the big difference between Daredevil #191 and let's say New Mutants #98, Hulk #340, X-Men #137, Wolverine #1, X-Men #266 and G.I. Joe #1?
Well ungraded nobody wants the Daredevil #191, his book is found in bargain bins, the others are displayed on walls.
Advantage Seller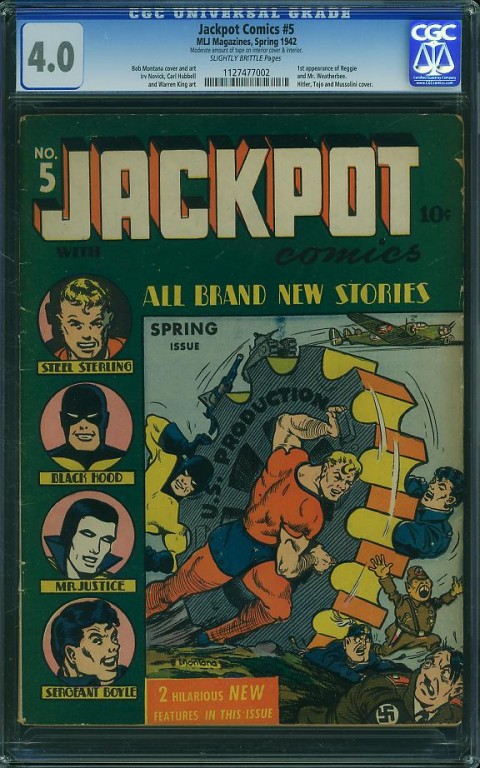 Jackpot Comics #5, MLJ Magazines, (Spring 1942) Graded by CGC at 4.0 with Slightly Brittle pages sold for $1,600.00. The Overstreet price guide value for this comic at 4.0 is $412.
Hey ComicLink I think you owe me a cut!
Actually this book needs no help, it delivers so much that I was not surprised at the 4 times guide result it would have probably been way higher had the pages been say, Off White.
Great book but I personally hate brittle pages, they scare me.
Advantage Seller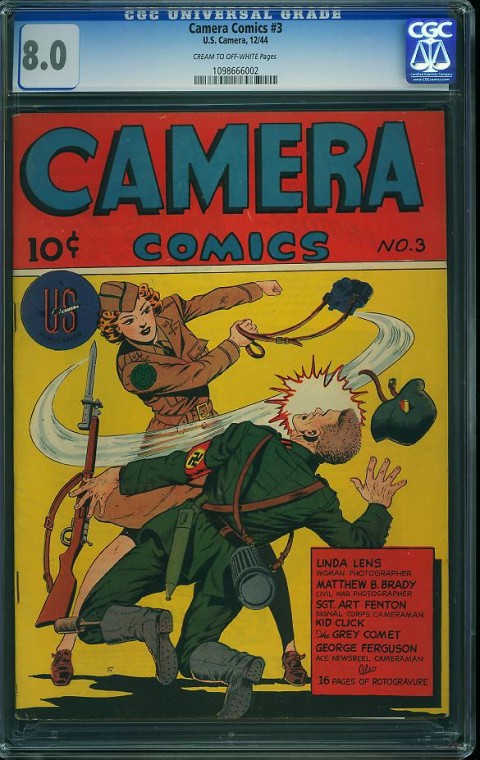 Camera Comics #3, U.S. Camera, (December 1944) Graded by CGC at 8.0 with Cream to Off White pages sold for $186.00. The Overstreet price guide value for this comic at 8.0 is $94.00.
How did I miss this?
Gorgeous female US soldier whacking a Nazi across the face with a camera, what a great cover. What a great WWII era comic!
It's exactly little gems like this that make comic collecting fun.
Advantage Buyer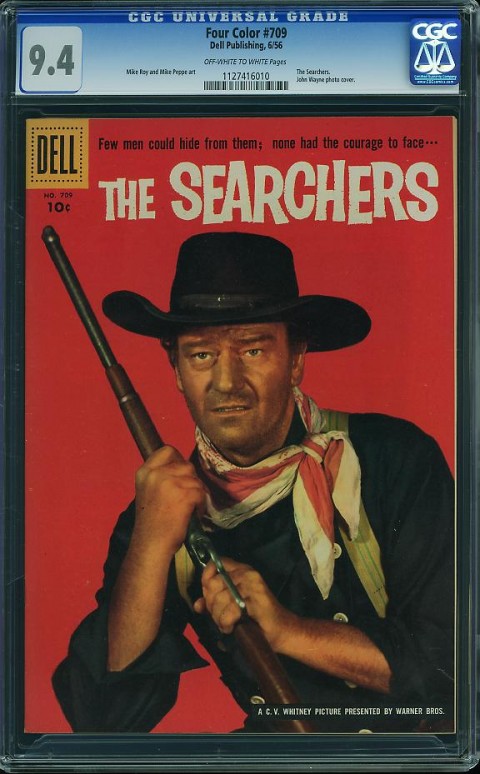 Four Color #709, Dell Comics, (June 1956) Graded by CGC at 9.4 with Off White to White pages sold for $2,288.00. The Overstreet price guide value for this comic at 9.2 is $450.00.
I remember I bought this beautiful collection of Four Colors, there were at least 200 in the #700 to #1100 range. I couldn't get close to half guide for any of them (save a few).
I recall this book and I remember I had is for a while, who knows what I dumped it for!
The latest sale on this book was a 7.5 getting $120 two years ago.
I might be missing something here but…
Advantage Seller
So? Pick up anything?