Comic Link Summer Featured Auction
The comic book portion of ComicLink's Summer Featured Auction ended Wednesday September 10th and I must say that results seemed strong through most of the auction.
The Action #1 graded CGC 6.5 with extensive restoration took top book crown closing at $130,000, it was followed closely by the CGC 9.2 copy of Brave and Bold 328 which fetched $120,000.
Some other notables include a CGC 9.8 Hulk #181 topping $10,000 and a Wonder Woman #6 CGC 6.5 getting $5,300. The Wonder Woman is notable because I covered a CGC 9.0 going crazy an getting over $6,000 back in May, that pick up now looks like a penny sale.
The top 50 comics topped $825,000.
I always like looking at the top 50 results. Here are some top 50 tidbits;
• 27 Golden Age books
• 1 Modern Age book, the Teenage Mutant Ninja Turtles CGC 9.8 #1
• 1 Bronze Age book, the CGC 9.8 Hulk #181
• 3 AF #15s made it including 1 UK edition
Why don't we look at some results.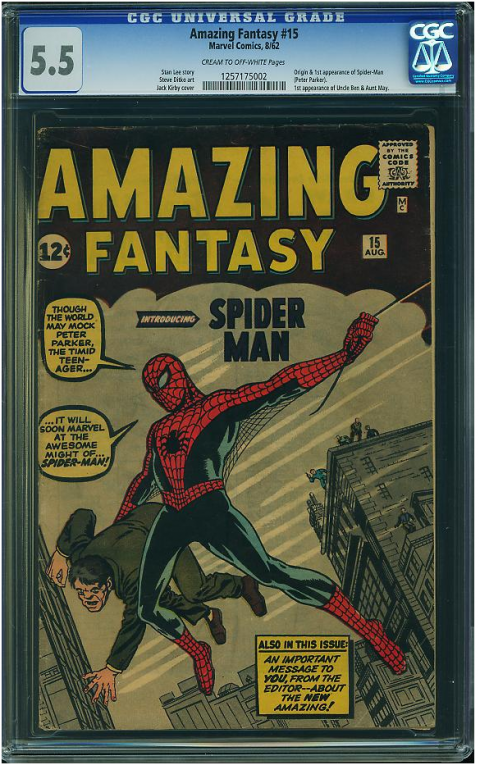 Amazing Fantasy #15, , Marvel Comics (August 1962) Graded by CGC at 5.5 with Cream to Off White pages sold for $21,611.00.
Holy cow! I thought this book peaked already and I honestly thought the 20K barrier was reserved for 6.0s and better. I thought wrong.
How much more room does this book have?
I think it has more still. The thing with AF #15 is that it is one of the books to have, top 5 on almost everyone's list and perhaps the top book for new investors entering the market seeing how Action #1 and Detective #27 have priced them selves out and are simply not available in numbers.
Advantage Buyer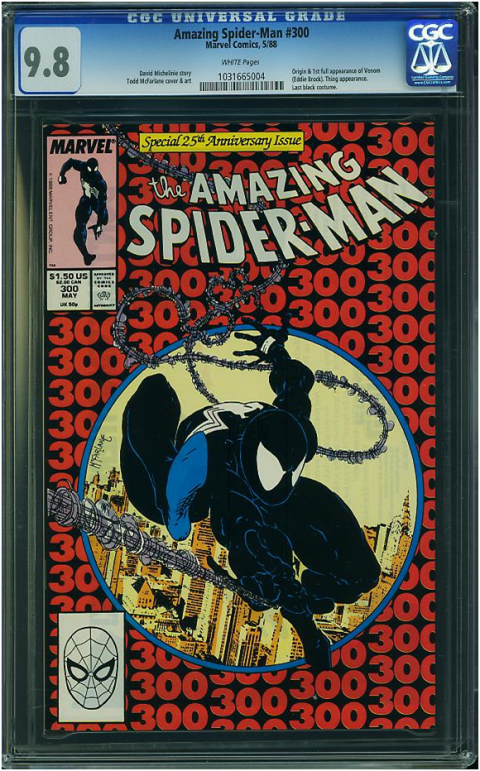 Amazing Spider-Man #300, Marvel Comics, (May 1988) Graded by CGC at 9.8 with White pages sold for $927.00.
If ever there was a sign of the robustness of the back issue comic market and if ever there was an indication of the demographic driving the market it can be seen in this result.
Most of us wrote this book off a couple of years ago. CGC 9.8s did get $1,000 back when relative scarcity of supply had people fooled into thinking that there were only so many of these in high grade.
The flood of freshly slabbed 9.8s was killing the value of this book driving it down over 50% from its highs.
Guess what though, the stream of new players in the market and I'd say younger players more inclined to believe in a character like Venom have begun to trump supply and drive the price of the book back up.
This is a great example of demand growing at a faster pace than supply (because supply continues to grow).
This is a really tough call but the old timer in me says…
Advantage Seller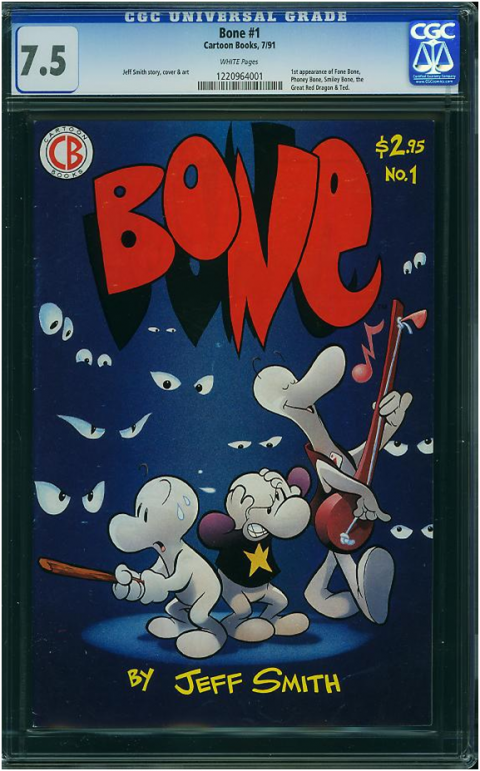 Bone #1, Cartoon Books, (July 1991) Graded by CGC at 7.5 with White pages sold for $653.00.
This result surprised me.
Perhaps I'm cautious about this because it's a 1991 comic and its only a 7.5. I love the property, I do think Bone has legs, I just think the grade unsatisfactory for this book and this price.
Advantage Seller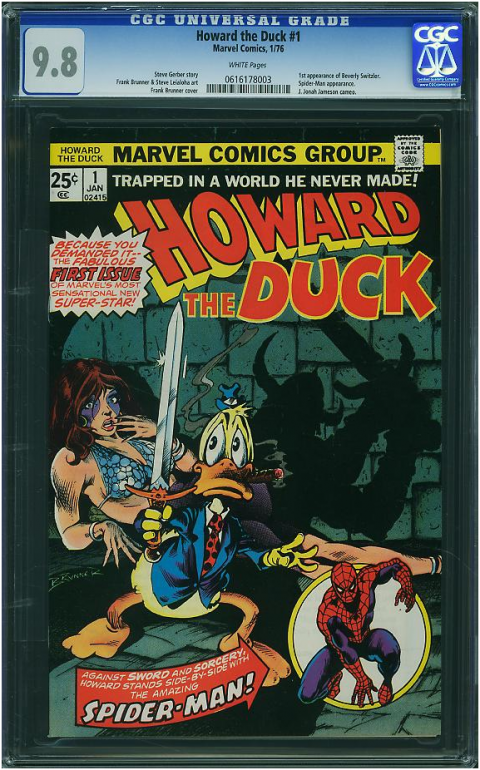 Howard the Duck #1, Marvel Comics, (January 1976) Graded by CGC at 9.2 with White pages sold for $1,399.00.
Don't believe the hype! It's a sequel. As an equal can I get this through to you?
Great looking book but I think there are a bunch more 9.8s still to be graded.
Remember this is Howard the Duck #1 gets hot the sequal as the 1st time around was way back before CGC days and that must mean speculator piles three feet high of nice tight copies.
I'm all for Howard getting hot again but I'd look to put the money in a Fear #19.
Advantage Seller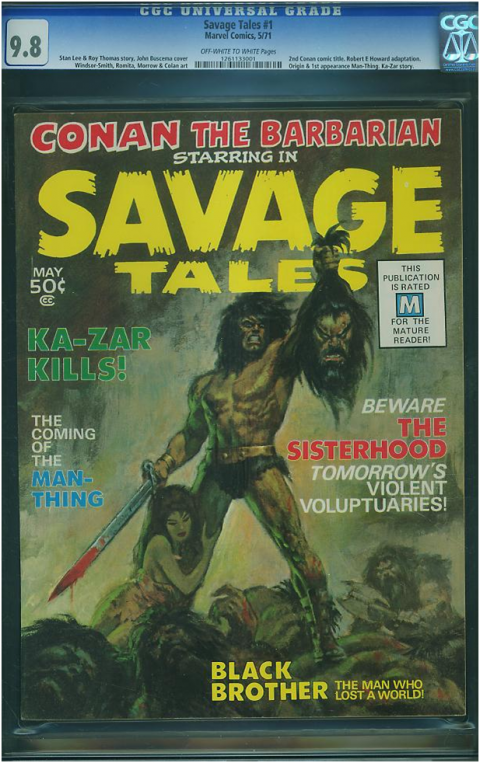 Savage Tales #1, Marvel Comics, (May 1971) Graded by CGC at 9.8 with Off White to White pages sold for $1,901.00.
Latching on to the train of thought of the book above I'd say this is a good buy.
We get the store of value that the Conan appearance has always brought this book to the added speculation on the Man-Thing's 1st appearance.
Always go with a 1st appearance over a 1st issue.
Advantage Buyer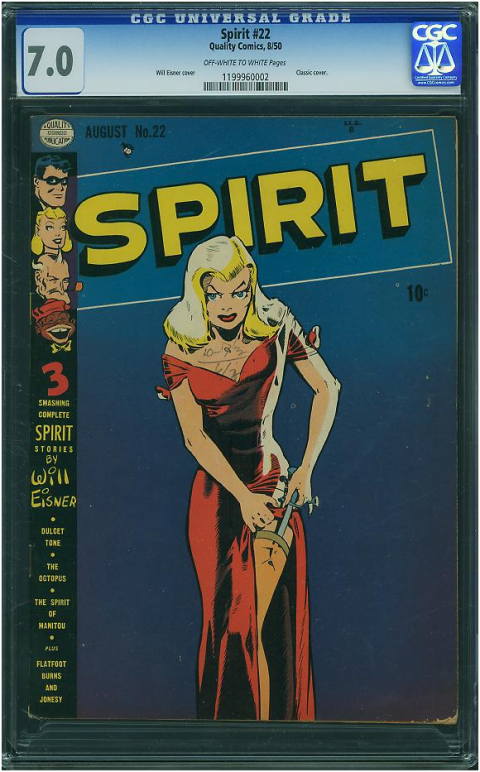 Spirit #22, Quality Comics, (August 1950) Graded by CGC at 7.0 with Off White to White pages sold for $3,500.00.
If you were looking for proof of the power of the comic book cover look no further than this auction.
An absolute classic, iconic Will Eisner cover.
Who would not want this comic!?
I was actually bidding on this book right to the end but for some reason I got cold feet because of the pencil date on her neckline.
I should have kept going.
Advantage Buyer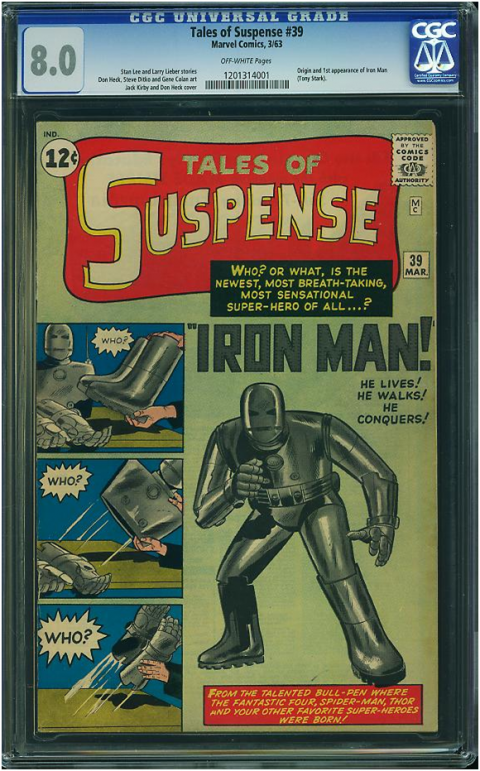 Tales of Suspense #39, Marvel Comics, (March 1963) Graded by CGC at 8.0 with Off White pages sold for $13,250.
A very strong result for this book and good to see.
So much activity around the flavor of the week books sometimes makes us forget about some true blue chip opportunities.
I remember a year ago or so making a play at an 8.0 and trying to win it of under $10k, I think it sold for just over. Drats!
My thinking was that this book is kind of being ignored, it is such a huge important comic and it is a relativey high grade 8.0 which makes it truly scarce.
Obviously the market has similar thoughts.
Advantage Buyer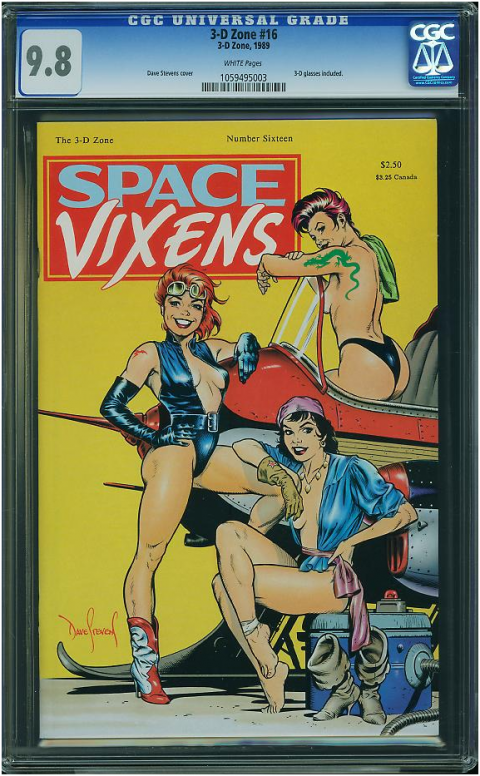 Three-D Zone #1, Three-D Zone, (1989) Graded by CGC at 9.8 with White pages sold for $435.00.
I have one question – why?
OK 1st off don't you hate when the obvious title of the book isn't actually the title? I looked up Space Vixens even after typing out Three-D!
So I'll be a real partypooper here and say there is a case or two of these still in some shop's storage room. Even if there were not I'd still say this is an early bird catching the worm type of thing.
Be one of the 1st to slab, be one of the 1st to bring to market = a nice payday.
Advantage Seller
I'd love to hear about your pick ups.