Comic Link Fall Featured Auction
The comic book portion of ComicLink's Fall Featured Auction ended Wednesday December 3rd and there were some very interesting results.
To say that the market is hot would be an understatement! So many books set records it was hard to keep track. These are exciting times.
There were no big money books in this auction as a matter of fact the CGC 8.5 Amazing Spider-Man #1 was the big book selling for $29,750. Another Spidey book, the CGC 6.0 White Pages Amazing Fantasy #15 was the 4th biggest book going for $25,250, a result that has to be seen as disappointing considering the run AF #15 has been on.
A coverless mess of a Detective Comics #27 store second spot earning $27,250.
Here are some top 50 tidbits:
21 Marvels
1 Platinum Age – the Famous Funnies #1 from 1934
18 DCs
1 MLJ – and of course it's an Archie (Pep #36)
A healthy 21 were from the Golden Age
7 Spidey books
OK let's look at some results.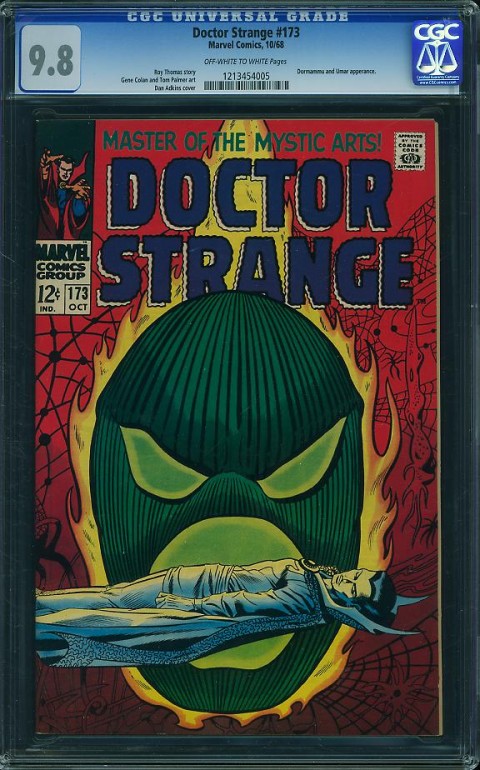 Doctor Strange #173, Marvel Comics (October 1968) Graded by CGC at 9.8 with Off White to White pages sold for $2,350.00.
Things are moving so fast even the GPA is looking like a weak tool. This is an amazing result and obviously based on the hype surrounding Dormammu.
This is just a cover! Imagine what a 9.8 Strange Tales #126 would get now!
This 9.8 is 1 of 3 highest graded copied but that don't hold water for me since not many of these have been slabbed. Look for a bump in the census real soon.
Advantage Seller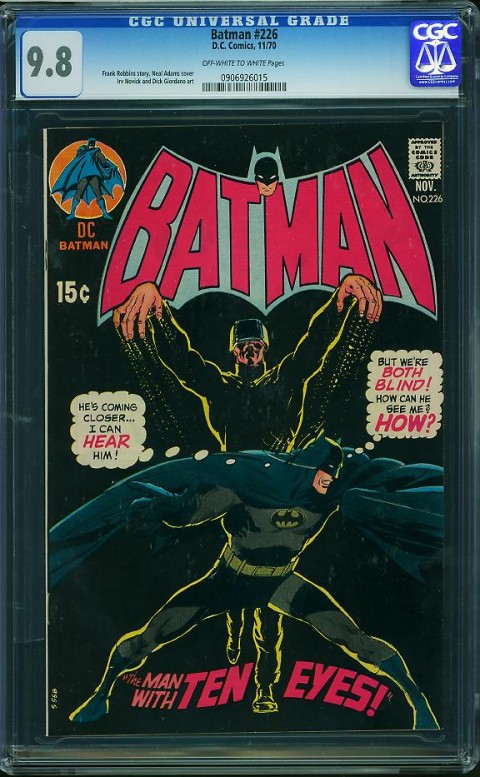 Batman #226, DC Comics, (November 1970) Graded by CGC at 9.8 with Off White to White pages sold for $3,877.00.
OK this one really confused me. I was watching the CGC 9.8 Batman #227 to see where it would end and right above it this book exploded in the last few seconds. It actually got more than the much sought after #227 (which earned $3,632).
Again, I can only point to this being 1 of 3 at the highest grade and again I'll say that isn't good enough to justify this price.
Advantage Seller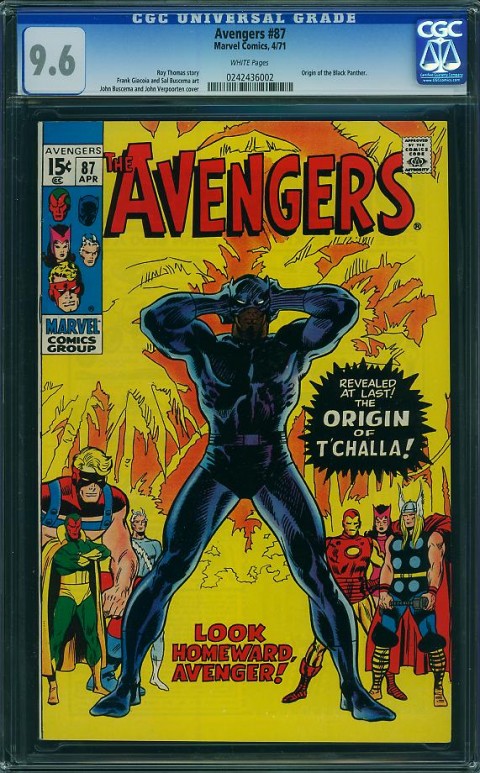 Avengers #87, Marvel Comics, (April 1971) Graded by CGC at 9.6 with White pages sold for $600.00.
There is so much spec on Black Panther right now, it's just crazy.
For me the 9.6 grade isn't high enough for the premium. Avengers #87 has to get behind a few other Panther issues in my mind, issues like the obvious FF #52 and 53, Avengers #52 and Jungle Action #6 to name a few. Before this auction 9.6s were getting $300ish. I just can't justify this sudden spike.
Advantage Seller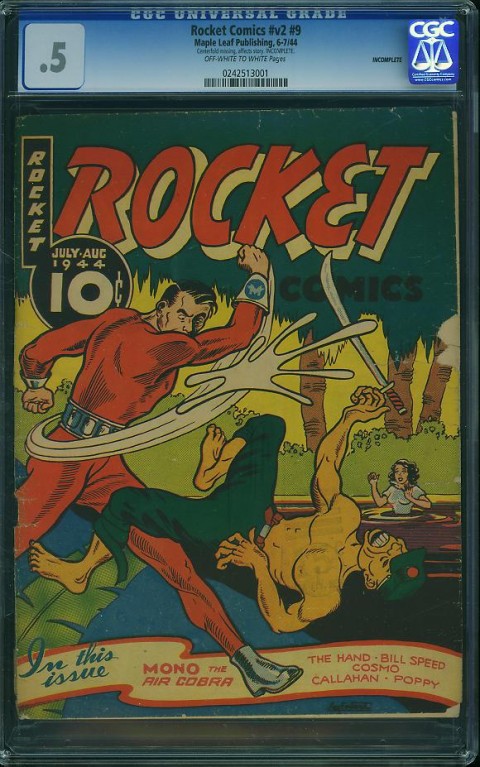 Rocket Comics v2 #9, Maple Leaf, (June/July 1944) Graded by CGC at 0.5 Incomplete with Centerfold missing that affects story, with Off White to White pages sold for $120.00.
This was the only Canadian White in the auction and boy is it a dog. It's an incomplete 0.5 but it still managed to get $120 which I think is impressive.
OK I have to call out the boys at Clink. "Single Highest Graded"!! Seriously guys?
That comment speaks to the scarcity of these things though and Maple Leafs are especially tough.
Advantage Buyer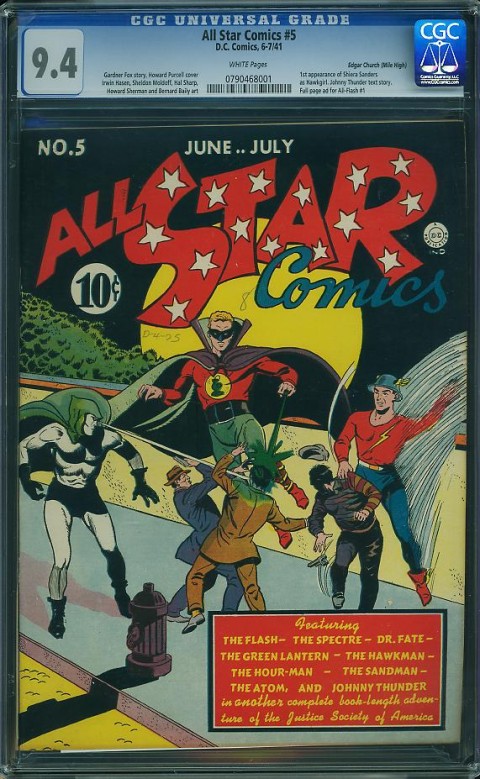 All Star Comics #5, DC Comics, (June/July 1941) Graded by CGC at 9.4 with White pages – the Mile High copy – sold for $12,709.00.
For me this was the steal of the auction. I bit like a chicken shit up to $9909 and got blown out of the water. They shouldn't have even let me in the pool. I'll blame shrinkage.
The Mile High copy of the 1st costumes female superhero – Nuff Said!
Advantage Buyer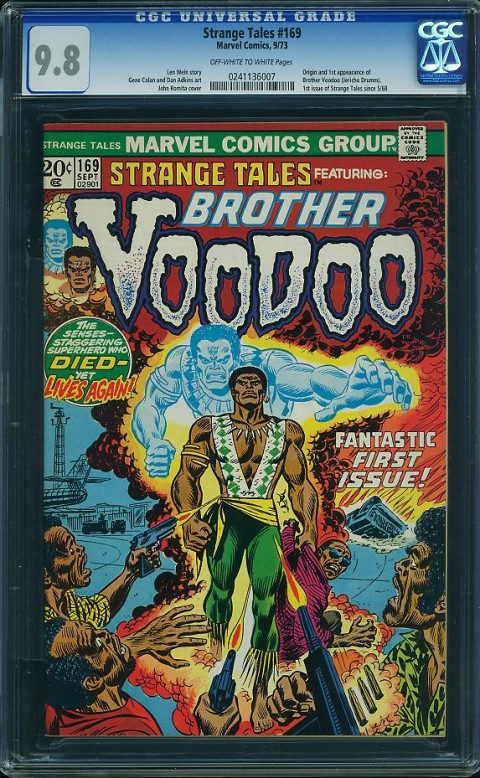 Strange Tales #169, Marvel Comics, (September 1973) Graded by CGC at 9.8 with Off White to White pages sold for $2,102.00.
What the heck is this?
This is another result that floored me is what it is. It's the 1st Brother Voodoo and the only thing I can think of is the spec tied to Doctor Strange.
I have a few copies of this book, one of them is nice, maybe not a 9.8 but I'll guarantee you there are lots of 9.8s out there.
Advantage Seller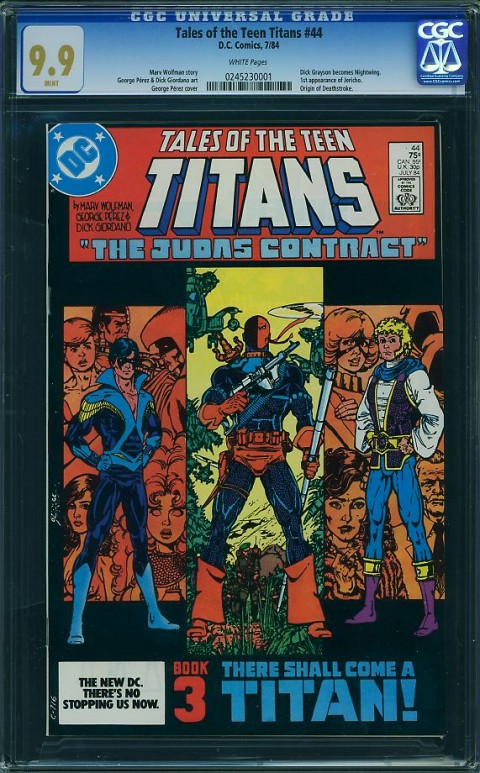 Tales of the Teen Titans #44, DC Comics, (July 1984) Graded by CGC at 9.9 with White pages sold for $4,010.00.
This book jumped at the very end as well. I won't pretend to be smart on this one. It is a key, 1st Nightwing, origin Deathstroke and all. It's just that there are 3 9.9s out there. The good news I guess is that there are probably only a few more 9.9s out there so there is true scarcity of grade.
I guess what it comes down to is just how big is Nightwing and how big will he become?
I'm having a hard time with this call, I'm thinking of the $150,000 Hulk #181 etc…
Advantage Buyer
So? What did you snag?