Comic Link Summer Featured Auction
The comic book portion of what I'll call a historic ComicLink Summer Featured Auction ended Thursday September 8th. This auction was historic for the number of quality Canadian White's available, quality in issue selection and quality in grade.
Judging from the results I'd say the Whites are busting out of their tight trading cartels and are slowly being welcomed by the general comic book/pop culture community as a worthy genre.
This was the "Canadian Whites" write up attached to each of the Whites auctions:
Canadian Whites Background
During the heart of the Golden Age of Comics of the early 1940s, U.S. comics were deemed "non-essential" imports under the Canadian War Exchange Conservation Act (WECA) and were banned from Canada. The market for superheros and other types of comics had already been established in Canada by that time so a small group of Canadian Publishers began putting out their own comics. Between 1941 and 1946, approximately 600 different issues were published. Due the printing costs, most of these comics had color covers but black and white interiors, which is why they are called "Canadian Whites". Many of the characters featured in these comics were patriotic English-Canadian heroes including Nelvana of the Northern Lights, a popular female heroine who first appeared months before Wonder Woman as well as characters like Johnny Canuck, Brok Windsor and Canada Jack. You'll see that a few of the offered examples feature familiar U.S. characters like Archie and Mary Marvel. A significant number of the comics feature the type of high energy covers that have made Golden Age comics a major focal point of the comic book collecting hobby for decades!
I counted 40 Whites as labelled by Comic Link but I many be off one or two
There were 30 Bells (counting Colonial Signs), 6 Anglo Americans, 2 Maple Leafs, 2 Educational Projects, 1 Feature and 1 FE Howard
So this is the auction we've all been waiting for and holy crap did this one ever deliver some impressive results.
The top 10 Whites generated just under $50,000
Nelvana was in 4 of the top 5
The Triumph Comics #7 CGC 2.0 featuring the 2nd Nelvana cover was the second highest value attained by a White at $9,000
All the top 10 were Bell's but that's more because there were no real offerings from Maple Leaf
You should really go to the Canada's Own Comics site, it's a great resource
OK let's look at a few results.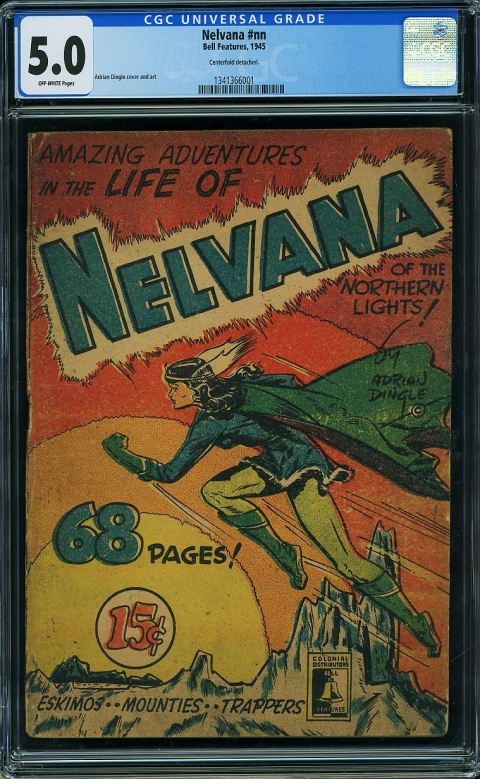 Nelvana #nn, Bell Features, 1945 Graded by CGC at 5.0 with Off White pages sold for $14,750.00.
Redemption! Many of us counted this book out when the CGC 6.5 version that sold a couple of auctions back sold for less than the $13,650 it got when first listed almost 2 years ago.
This Nelvana One Shot was the top White as was expected.
This is an iconic cover, it's been on a Canadian stamp and it's becoming one of the identifiable Whites covers recognizable outside the immediate sphere of influence.
I do want to add my opinion to ComicLink's statement of it being THE holy grail of the Whites. While up there I think this book has to line up behind at least Triumph Adventure Comics #1 (the 1st appearance of Nelvana) and perhaps Better Comics #1 (the first Canadian White).
I don't know where this thing will stop but I think it has more room.
Advantage Buyer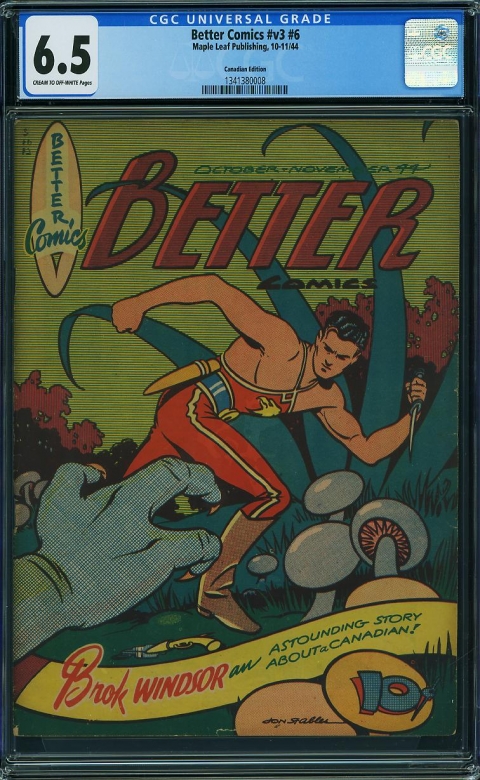 Better Comics V3 #6, Maple Leaf Publishing, October/November 1944 Graded by CGC at 6.5 with Cream to Off White pages sold for $950.
This was one of only two Maple Leaf books on offer in the whole auction. It had a strong Brok Windsor cover. I believe he first appeared in V3 #3. I'm surprised it did not go for more.
Advantage Buyer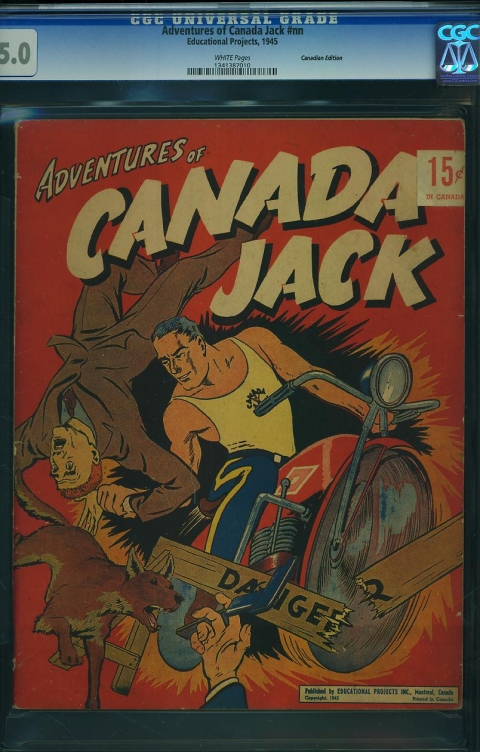 Adventures of Canada Jack, Educational Projects, 1945 Graded by CGC at 5.0 with White pages sold for $905.00.
Canada Jack was the best thing to come out of Montreal's Educational Projects. The run of Canadian Heroes, where he first appeared, has only two Canada Jack covers I think. Neither are as cool as this one.
Totally biased because I won this auction but…
Advantage Buyer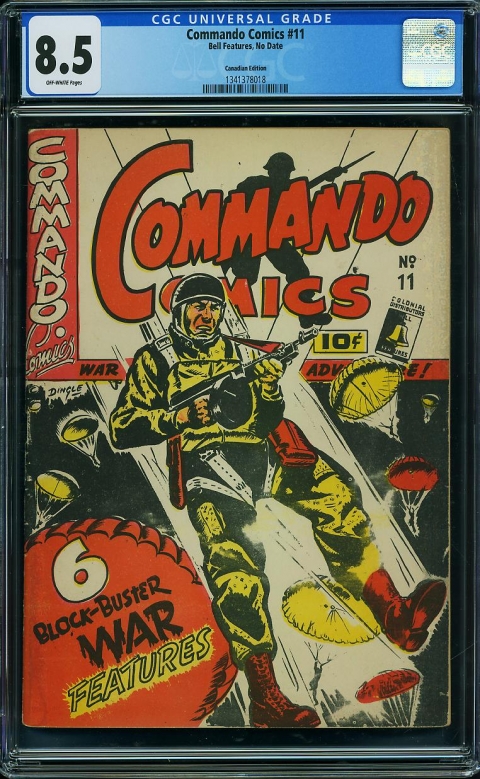 Commando Comics #11, Bell Features, May/June 1944 Graded by CGC at 8.5 with Off White pages sold for $1,450.00.
I'm not looking for trouble, not just picking on this one because… but this doesn't have the benefit of being early or of having a nose bleed grade, like the beautiful Commando #4 9.2 that got $2,000. Content wise we have army stuff as far as I know.
I'm optimistic on all Whites gaining in value over the coming years but the shackles that bind me to the inner circle of Whites collectors has me feeling this was just a tiny bit of a stretch.
Advantage Seller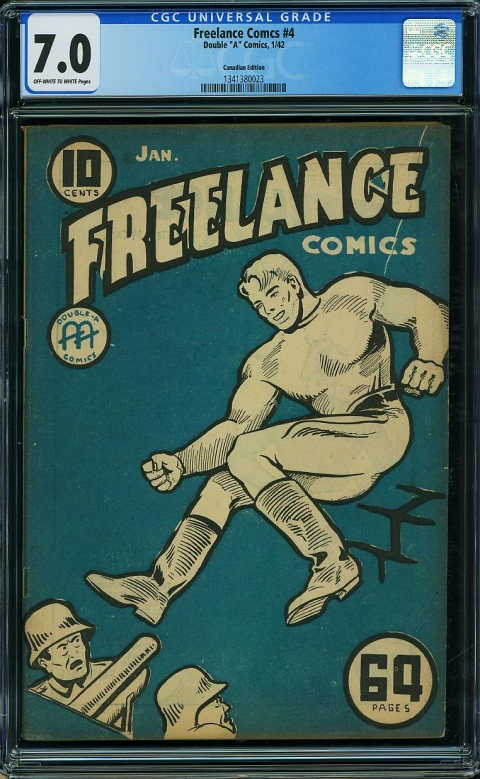 Freelance Comics #4, Anglo American, January 1942 Graded by CGC at 7.0 with Off White to White pages sold for $750.00.
Of all the Anglo Americans I like Freelance the best, he had a very long run, he was original content, not like the Whiz redraws and he had what I thought were great simple covers.
This issue #4 is a fine example and the January 1942 date means early days
Advantage Buyer
Anybody grab any Whites???