Comic Link Focused Auction
The comic book portion of the ComicLink Focused Auction ended Thursday September 29th. This auction was the follow up auction to the historic Featured Auction that ended September 8th.
Those people down at ComicLink sure know how to sell "Whites", they keep this up Mr. Trudeau may have to grand them honorary citizenship! The results were amazing! Off the charts really. I've said before that the Whites are busting out of their tight trading cartels and are being welcomed by the general comic book/pop culture community as a worthy genre. These results are further proof and very hard to ignore.
Clink again included this blurb for every "Canadian White" auctioned:
Canadian Whites Background
During the heart of the Golden Age of Comics of the early 1940s, U.S. comics were deemed "non-essential" imports under the Canadian War Exchange Conservation Act (WECA) and were banned from Canada. The market for superheros and other types of comics had already been established in Canada by that time so a small group of Canadian Publishers began putting out their own comics. Between 1941 and 1946, approximately 600 different issues were published. Due the printing costs, most of these comics had color covers but black and white interiors, which is why they are called "Canadian Whites". Many of the characters featured in these comics were patriotic English-Canadian heroes including Nelvana of the Northern Lights, a popular female heroine who first appeared months before Wonder Woman as well as characters like Johnny Canuck, Brok Windsor and Canada Jack. You'll see that a few of the offered examples feature familiar U.S. characters like Archie and Mary Marvel. A significant number of the comics feature the type of high energy covers that have made Golden Age comics a major focal point of the comic book collecting hobby for decades!
I didn't have enough time to count the number of "Whites" up for this auction, if anybody did the count please add it to the comments below for all to share.
You owe yourself a favor by going on to the Canada's Own Comics site, it's a great resource for all things Canadian Whites
OK let's look at a few results.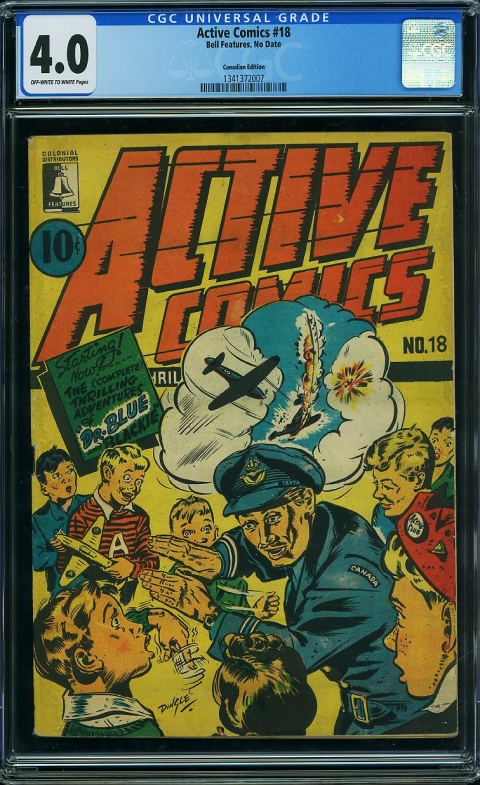 Active Comics #18, Bell Features, August/September 1944 Graded by CGC at 4.0 with Off White to White pages sold for $2,900.00.
I cried when I saw this result. See, I had a nice copy last year and one of the other Whites collectors I hang around with needed it real bad for his run so I said "yeah", "sure" "it's only an Active #18". Gah!
Truth be told I really liked the book because of the cover, that is a beautiful cover.
This is a strong result I know but the page quality is excellent and it is a special wartime cover.
Advantage Buyer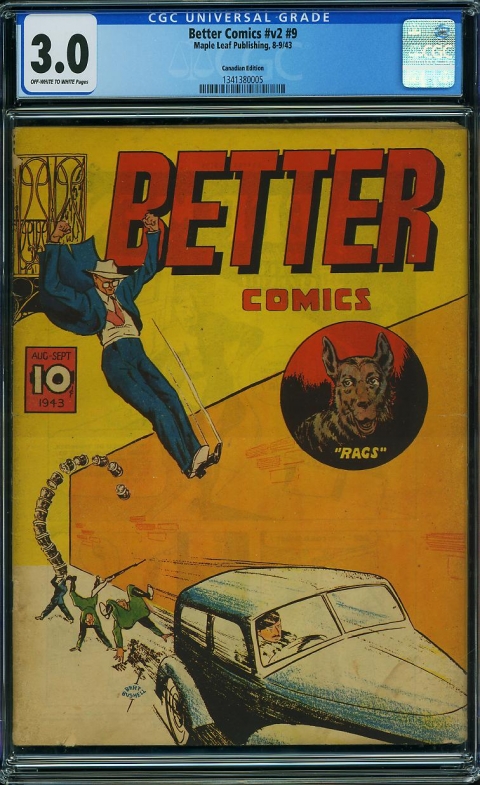 Better Comics V2 #9, Maple Leaf Publishing, August/September 1943 Graded by CGC at 3.0 with Off White to White pages sold for $1,008.00.
Yay I won this auction. The Maple Leafs continue to under perform versus the Bell's but that's fine by me as I desperately try to build my Better Comics run, Those issues of Lucky that sold on this auction did better than this book but I'm sticking with fundamentals. Better is the key run in the Maple Leaf library so I think I did alright.
Advantage Buyer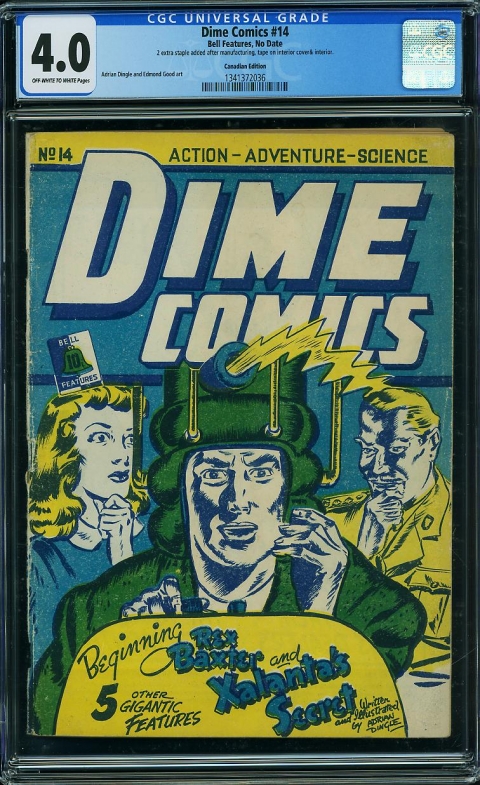 Dime Comics #14, Bell Features, October/November 1943 Graded by CGC at 4.0 with Off White to White pages sold for $3,200.00.
I bet the bidders jumped on to canadasowncomics.com for this one. There they would have been privy to way more info than the CGC holder or ComicLink gave them. The date is provided and more importantly they would have seen that this is a key comic featuring the 1st appearance of Nitro.
Advantage Buyer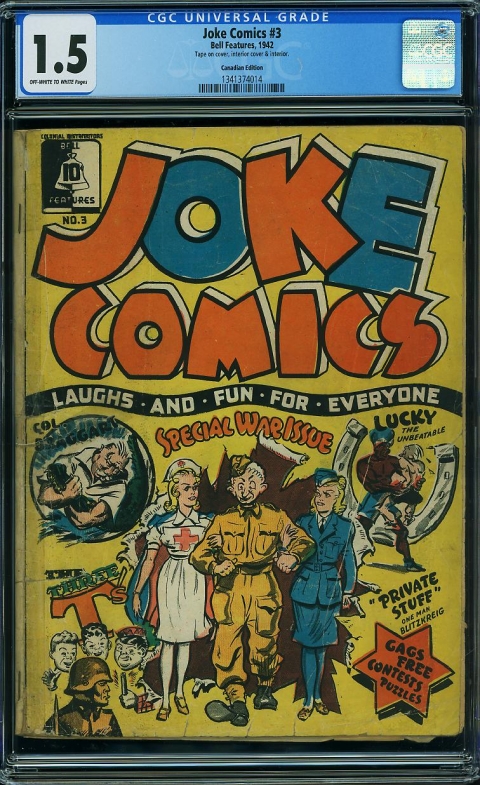 Joke Comics #3, Bell Features, 1942 Graded by CGC at 1.5 with Off White to White pages sold for $3,400.00.
I'm just as patriotic as the next guy and I love nurses on covers almost as much as I love the ladies from WAC on the cover but I can't let this one go. A CGC 1.5 with tape, no major appearances that I know of in this book. My gut tells me it it too much.
Advantage Seller
Please share with us your thoughts and or your pick ups