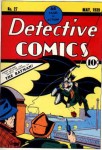 Hold the phones and stop the presses because a second comic within a week has sold for over $1,000,000.00.
Late last week we ran the story on Action Comics #1 selling for a cool million on the ComicConnect auction site. In the article we mentioned the possibility of this Heritage Auctions' CGC graded 8.0 (Off White to White Pages) copy of Detective Comics #27 selling for 7 figures, and it did.
The final price settled at $1,075,000.00 which technically is less than the Action #1 since there was a 19.5% buyer's premium. So in actual fact, the Action Comics #1 sale has brought the seller more coin than the Detective Comics #27 sale while the Detective Comics #27 purchase has cost the buyer more than the Action Comics #1 purchase!
Both books were graded by CGC at 8.0. The Detective is tied with another as highest graded while there is a CGC 8.5 out there for Action Comics #1.
This is truly a historic and tremendous result.
Are there any more $1,000,000.00 comics out there? Obviously the CGC 8.5 Action Comics #1 and the other CGC 8.0 Detective Comics #27 can fetch the million but beyond that? There is an Amazing Fantasy #15 graded at CGC 9.6 and there's also an Amazing Spider-man #1 graded by CGC at 9.8. I can see these getting over $500,000.00 but not a million, at least not yet!
Walter Durajlija is an Overstreet Advisor and Shuster Award winner. He owns Big B Comics in Hamilton, Ontario, Canada