ComicLink completed their September Focused Auction last week, with the original comic art portion ending September 28th. Here we'll look at five picks that tickled my fancy. It was an odd auction with mostly lower end material for sale; a few preliminary sketches from bigger names and some lots of 1950s Gasoline Alley comic strips. Let's be kind and call it an eclectic mix. Overall bids were on the low end of the scale and some bargains were had. I was planning on skipping this one but because I ended up buying something it seemed worth discussing that portion of the process as well.
This was my first purchase from ComicLink so the procedures and rates were new to me. First I wasn't able to place a bid until I'd registered a credit card with the site, but when checkout time came after the auction you could select an option for credit card purchases that said "I don't feel comfortable giving my credit card information over the internet" and gave a phone number to call. If that's the case how did these people even bid? I didn't notice a phone or mail bid option. The next oddity was a 3% charge to use a credit card for payment, a clear violation of vendor credit card agreement terms. Most places skate this by offering a 3% "discount" when paying by cheque or money order but ComicLink is bold as brass. Lastly for my one piece of art  it was $20 shipping and handling to the U.S. or $65 to Canada. Hmm. Lessons learned: don't get just one item and pay by money order.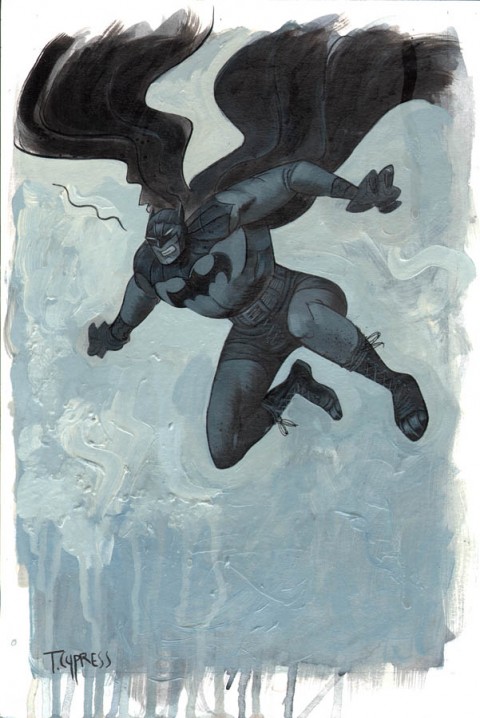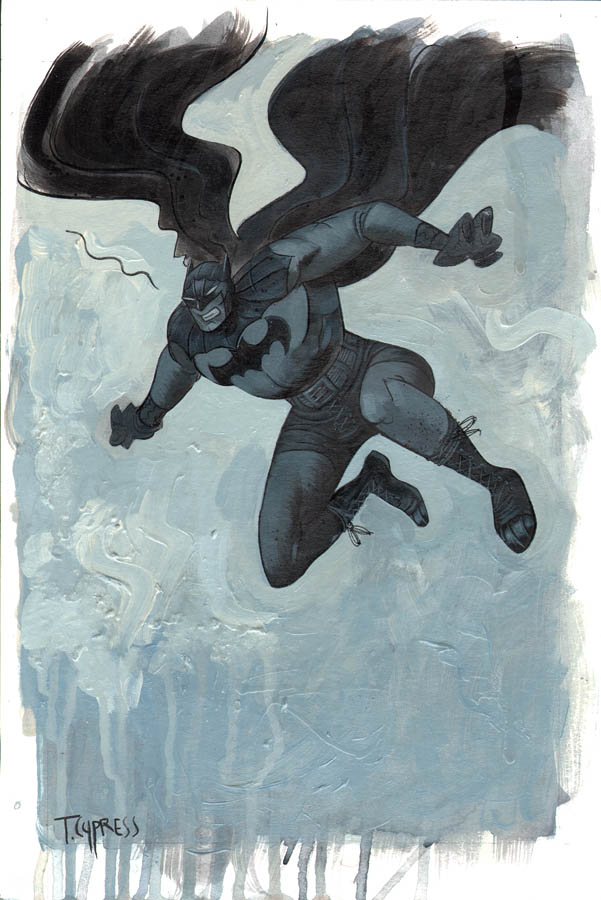 Batman by Toby Cypress, 2009, sold for $72. Yep, this was my auction win. Toby Cypress is on the fringes of comics, making a steady name for himself. It's a great representation of Batman: love the trunks and boots. Source.
Advantage Buyer. A colour acrylic painting by a rising artist of Batman for $72. Come on!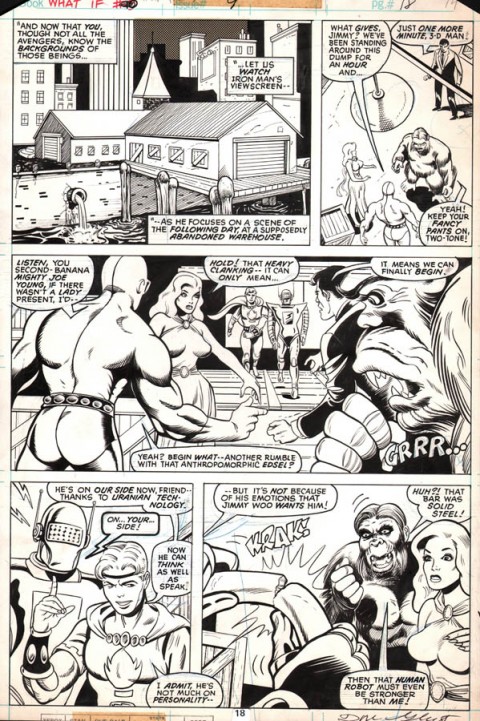 What If? issue 9 page 18 by Alan Kupperberg and Bill Black, 1978, sold for $1,211. This issue is the first appearance of Agents Of Atlas as a group, presenting an alternate storyline that this group was the "Avengers" of the 1950s. Source.
Advantage Seller. I'm still scratching my head over this one. Kupperberg art doesn't command this kind of price, and while I'm a fan even I realize Agents Of Atlas will never be a household name. Someone desperately wanted this page as last minute bidding saw a jump from $430 to $1111 and finally $1211. Auction fever!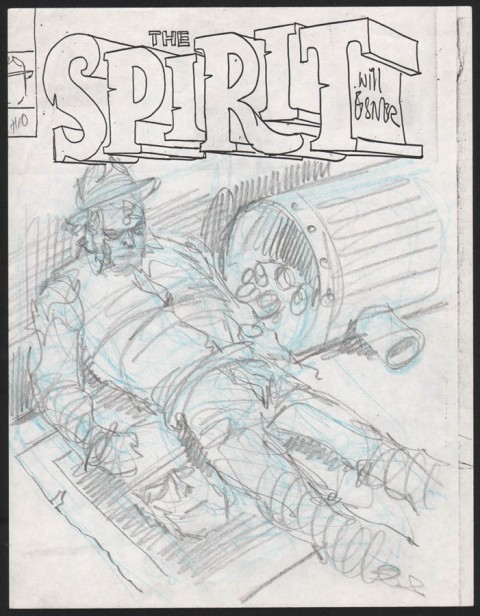 The Spirit issue 10 preliminary cover by Will Eisner, undated, sold for $340. Some internet searching didn't uncover what run or year this preliminary was for. I watched this auction out of sheer curiosity: how much is a prelim sketch like this worth? Source.
Advantage Buyer. I'm giving this to the buyer, as $340 doesn't seem bad for a piece of Spirit history and an original by Eisner, no matter how "preliminary" it is.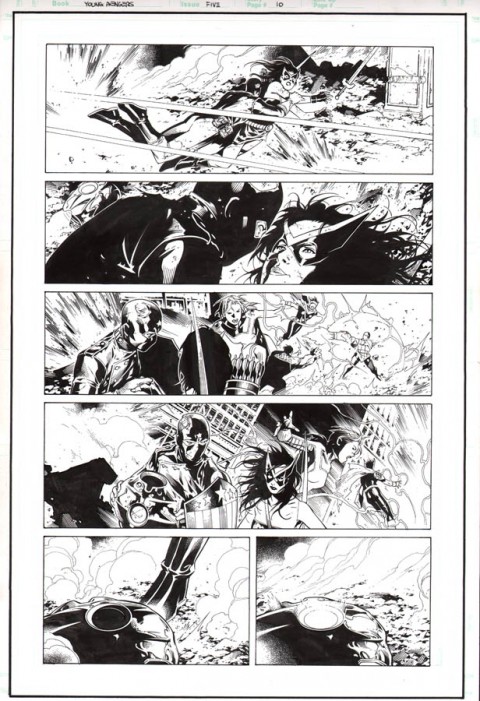 Young Avengers issue 5 page 10 by Jim Cheung and John Dell, 2005, sold for $120. Cheung has a wonderfully detailed style that works with the fans, getting him more and more work with Marvel. Source.
Advantage Buyer. Cheung pages are going for two to three times this much all day long. Yes it only features the Young Avengers but it's an action page nonetheless.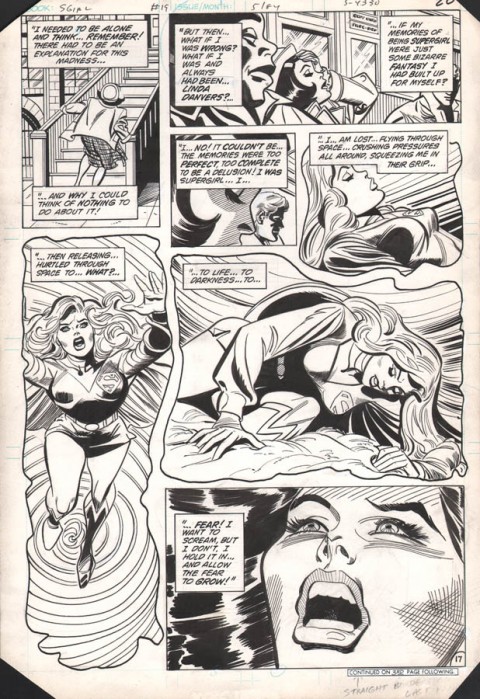 Supergirl issue 19 page 17 by Carmine Infantino and Bob Osner, 1984, sold for $165. I can't put my finger on it but this page really jumped out at me. The composition is nice, the crazy whirling background, Supergirl's facial expressions. Source.
Advantage Buyer. Even for a run of the mill 1980s Infantino page this price is low; I'd expect to see this go in around $250.