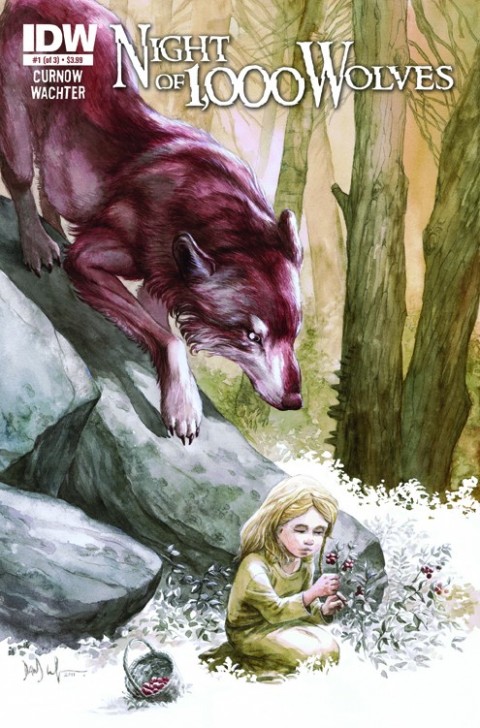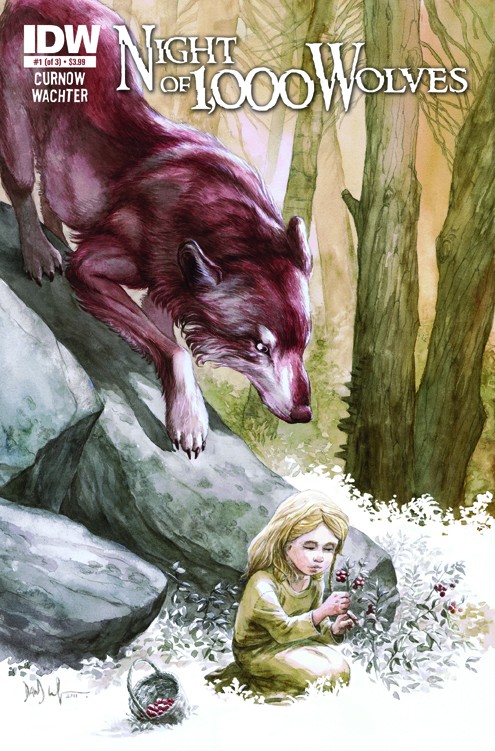 As the autumn air cools and the days grow shorter I, like many, find myself seeking out spooky tales to enjoy while nestled in front of a crackling fire and sipping hot cider. Coming Oct. 23 from IDW is a trade paperback collection of one of my favorite horror titles of the year, NIGHT OF 1,000 WOLVES.
NIGHT OF 1,000 WOLVES was an unlooked-for book from creators on the fringe of mainstream comics. It was written by Bobby Curnow, who spends most of his days as an assistant editor for familiar titles from IDW such as GODZILLA and TEENAGE MUTANT NINJA TURTLES. His only other writing credit to date that I could find was for a licensed book called BATTLE BEASTS, based on the 1980s toy of the same name.
Curnow's scripting is rock-solid, even inspired at times. The book takes itself quite seriously but manages to avoid melodrama for the most part. Dialogue and action are well-balanced, and the pacing is breakneck. (A bloody-mawed wolf attacks by page 3.)
Art is provided by Dave Wachter, whose best-known work to date is the Eisner-nominated  webcomic The Guns of Shadow Valley. In 1,000 WOLVES, Wachter's black ink brush strokes and muted watercolors effectively evoke the book's 11th-Century Scandinavian setting. Absent are the self-conscious, laser-cut figures of mainstream comics, jettisoned in favor of an earthier, almost vintage look. It reminds me most of Jill Thompson's watercolor work on BEASTS OF BURDEN, although a little darker in tone, if that's possible.
The mythology of WOLVES is mostly original, from what I can discern, but it of course borrows heavily from the timeless mythology of the wolf that permeates human culture. There's simply something about the species that both terrifies and fascinates, and 1,000 WOLVES emphasizes the nightmarish aspects of both traditional wolves and the specter of lycanthropy and lupine deities.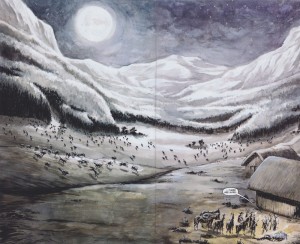 1,000 WOLVES follows a single family on the worst night of their lives, beginning with a portent written in the stars. Soon a single wolf attacks, then another, and before long 1,000 wolves are scratching at the shepherd's door. Wachter's sweeping landscapes offer an uncomfortable reminder of just how terrifyingly isolated a rural life can be. The wolf attack is not random, and things quickly escalate to mythological proportions, but revealing more would spoil the fun.
NIGHT OF 1,000 WOLVES is not perfect. Wachter's watercolors are atmospheric and beautiful, but his figurework occasionally disappoints, and Curnow lets slip the odd bit of stiff dialogue. But the book is brimming with ideas and emotions, and it was clearly a labor of love. The overall package is a reminder that new artists and writers only need a few great pages to make a lasting impression, and Curnow and Wachter delivered 66, plus covers. I'm looking forward to these creators' next projects.
Just in time for Halloween, the trade paperback will collect all three issues, and will include concept art and other behind the scenes material, according to a post from Curnow on the IDW forums. Artist Dave Wachter revealed much of his process for 1,000 WOLVES in an article on ComicMonsters.com, so hopefully he'll offer further insight into the making of the book.
Order online: Amazon, Book Depository.