Comic auctions continue to be a hot commodity and Hake's recently completed their Auction #216, from which we'll look at Original Art & Related. Hake's is a smaller player in the original comic art field, mostly covering illustration, animation and comic strip art.
This was my first auction with them and there are a few procedures worth noting: a 15% buyer's premium and an automatic time extension for each bid. This can make the price either continue rising or make it agonizingly slow to actually win something. They do post a wrap up of items with final prices and make past auctions available for search: two plusses for bargain hunters.
As always we'll look at five items of interest.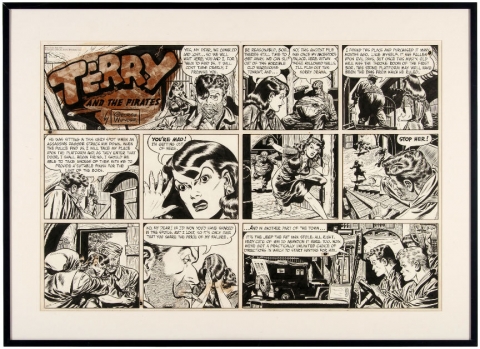 Terry And The Pirates Sunday 08-24-1947 by George Wunder sold for $287.50. Source.
Advantage Buyer: A nicely detailed early Wunder Sunday, framed and matted. Some classic Wunder faces and just weird characters. Buyer was only paying for the frame!

Rip Kirby Daily 09-09-1958 by John Prentice sold for $461.29. Source.
Advantage Seller: Oh, I so wanted this piece. That woman in the first panel, the clothing throughout, one of the best Prentice Kirby's I've seen. But higher than any Prentice Kirby by a mile. I stopped bidding at $300 when I saw it was going crazy.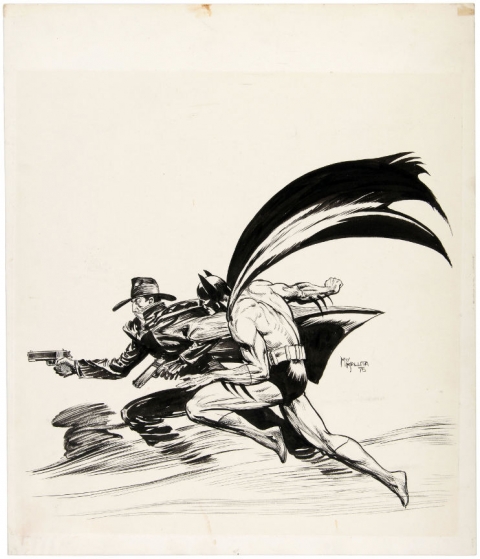 The Shadow and Batman by Michael Kaluta, 1975, went unsold with a minimum of $3000. Source.
Advantage Buyer. A classic Shadow right in that timeframe of Kaluta's work, along with Batman. Sounds like a slam dunk for hitting far above the minimum, but this received no bids. Estimate was $5000-$10000. But that's the kind of money to put our for a Shadow page, not a commission.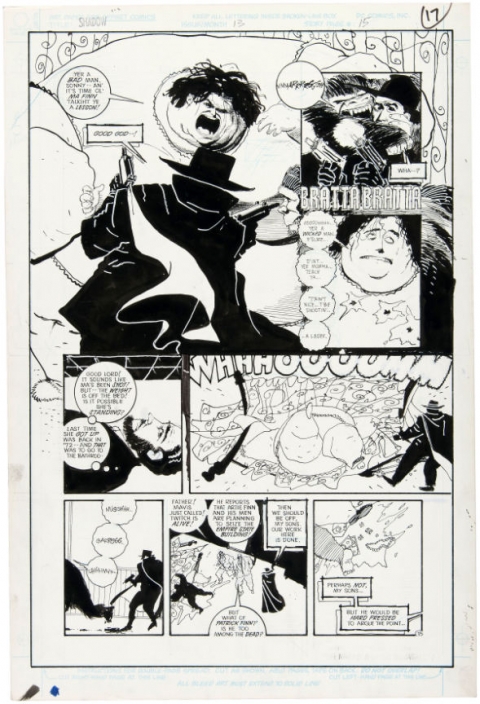 The Shadow issue 13 page 15 by Kyle Baker, 1988, sold for $271.98. Source.
Advantage Buyer. Here's a rarity in the auction world, a Baker Shadow page. And a nicely detailed on to boot, with the Shadow in rich blacks. This is all kinds of low for these pages: less than half of a page sold six months ago and less than pages from 2012. A real bargain.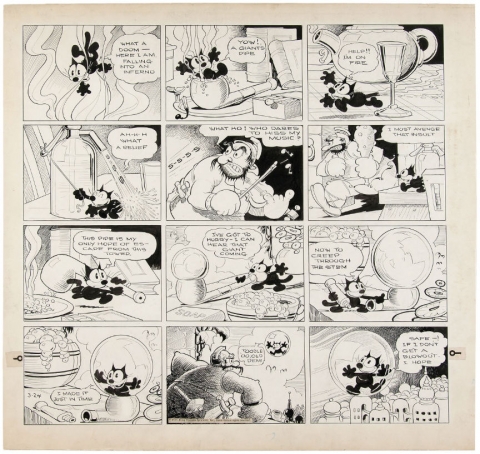 Felix The Cat Sunday 03-24-1935 by Otto Messmer sold for $5692.50. Source.
Advantage Buyer. A wonderfully detailed early Felix Sunday. Right in the area of recent auctions for similar material. The detail is exceptional and makes this a bargain.