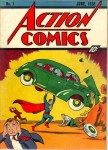 March Madness!
There is massive comic collecting news out of New York. The ComicConnect auction site has sold the highest graded copy known of Action Comics #1 for $1,500,000.00. March Madness indeed! Just last month another copy of Action Comics #1 CGC graded at 8.0 was the first comic to crack the $1,000,000.00 plateau when it sold at a cool million. Days late a CGC graded 8.0 copy of Detective Comics #27 (1st appearance of Batman) sold for $1,075,000.00 over at Heritage Auctions. The new record setting copy of Action Comics #1 is CGC graded at 8.5, none have graded higher.
I've been dealing in comic books for a long time and let me tell you that there is often not that much of a difference between an 8.0 and an 8.5, condition wise. I'm sure the difference is there and I have full confidence in the pros at the CGC Corp. but most of us may not see much of a difference, let alone a $500,000.00 difference!
From the ComicConnect website:
Zap! Pow! Bam! Superman Wins Comic Books Wars
First Superman Comic Pulverizes Previous Records with $1,500,000 Sale
The saga continues. And once again, Superman has bested Batman as the world's most valuable comic book.
ComicConnect.com, one of the industry's leading online auction/consignment sites, has sold the #1 highest-rated copy of the world's #1 comic book—Action Comics #1, which marks Superman's 1938 debut—for a whopping $1,500,000.
This follows on the heels of last month's unprecedented sale of the first ever million dollar comic, another rare copy of Action Comics #1, also sold by ComicConnect.com. Shortly thereafter, a copy of the first Batman comic book, Detective Comics #27, sold for $1,075,000—perhaps boosted by Superman's record-breaking sale.
Holy Kryptonite…can comic book values possibly go any higher?
"This new record will be hard to break," says ComicConnect.com co-owner and COO, Vincent Zurzolo. "Because this particular Action Comics #1 is literally the single most valuable comic book on the planet."
That's because this Action Comics #1 is the only one in existence with a grading of 8.5. By comparison, the $1,000,000 Action Comics #1 is graded 8.0. That small difference translates to big bucks when it comes to comic book values.
For most collectors, the $1,500,000 Superman comic is the ultimate object of desire. The comic has been legendary since it blasted out of obscurity in the late 1980's. Even its discovery is the stuff of dreams.
For 50 years, the comic book was buried in a stack of old movie magazines from the 1930s. When the magazines were sold at a antique auction in Pittsburgh, the buyer was surprised to find Superman keeping company with Clark Gable and Joan Crawford.
"Because it was tucked inside a magazine, it was well protected all those years," says Stephen Fishler, founder of ComicConnect.com and its affiliate, Metropolis Collectibles (metropoliscomics.com), the world's largest vintage comic book dealer.
"That's why it's in such remarkable condition."
The lucky buyer knew the value of his find. He brought the book, unannounced, to a New York comic convention, where he waved it around, offering it to the highest bidder. Fishler was there.
"What a ruckus," remembers Fishler, who created the 10-point grading scale now used universally to evaluate the condition of comic books.
"One minute, no one knew it existed…the next minute, everyone was dying to own it."
In the years that followed, the comic book was bought and sold several times by various collectors, breaking records along the way. For the last 17 years, it had been in the possession of a single, established collector, who—after receiving numerous offers over the years—sold it to Fishler and Zurzolo. They in turn resold it on ComicConnect.com.
It's fair to assume that the new owner belongs to what Zurzolo and Fishler describe as the latest generation of comic book collectors.
"Some of today's most successful entrepreneurs were yesterday's comic geeks," observes Zurzolo, who started his own career at the age of 16, selling comics on the streets of Manhattan.
"They don't want a Van Gogh or Picasso. They want collectibles that mean something to them. Our society is built on pop culture. Superman, Spider-Man, Batman…they're the icons now."
So will comic book values continue to soar? Absolutely, according to Fishler and Zurzolo.
In that case, could another comic book—say, a Batman or Spider-Man—eclipse the $1,500,000 mark? It's unlikely, at least any time soon. Because if Action Comics #1 is considered the Holy Grail of comic books—and it is—then this represents the holiest of Holy Grails.
"Think about it," says Fishler. "For two decades, the highest-graded copy of the world's most valuable comic book—the subject of countless speculation and the target of countless offers—remained out of reach."
"It would take a miracle to shake it loose. And that's exactly what happened. The recent, record-breaking string of million dollar comic sales was the catalyst. And once it entered the arena, there was no question it would become the most expensive comic book ever sold."
And so, Superman one again reigns as the supreme defender of truth, justice, and the American way. All's right with the world.
Walter Durajlija is an Overstreet Advisor and Shuster Award winner. He owns Big B Comics in Hamilton, Ontario, Canada