I have absolutely no background material on this book.  I spoke at length last year with Mariano Nicieza, editor of the Marvel Limited line in the mid 1990s, and he confirmed this book was not part of that line or even the inspiration for it.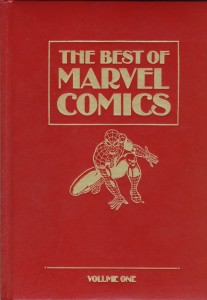 Here's what I do know: The Best Of Marvel Comics Volume One was published in 1987.  It's a leatherette hardcover with no ISBN number or price.  It lists no credits for the volume, only a table of contents.  It appears to be a retailer incentive since no price or ISBN indicates it was never meant for retail.
While I can't fault the choices this is a strange collection of work.  Here's a rundown of what's included:
Fantastic Four 52-53
Hulk Annual 8
Amazing Spider-Man 248, 31-33
Captain America 255
Thor 159, 171
Doctor Strange 56
Uncanny X-Men 183
A new Wolverine story
So they jump around between 1960s and 1980s material: lots of Jack Kirby in there with Steve Ditko, John Romita Jr., John Byrne and Paul Smith.  For some reason the Uncanny X-Men 183 story "He'll never make me cry" wasn't included in the table of contents.  This is the only time that Doctor Strange story has ever been reprinted in colour.  All together this volume is a mix of retold origin stories and just randomness that's hard to define how it was chosen to be collected together.
The new story called "The Hunter" is six pages of Wolverine in Japan by Chris Claremont and Marshall Rogers; oddly there's no credit for the inker or colorist.  Based on searches of comicbookdb.com and comics.org this story has never been reprinted.
Two things make this hardcover collectible: the first retailer incentive hardcover from Marvel, and the only chance to read "The Hunter".  It's fairly inexpensive, going for about $30 in the used book market.  For some reason I bought two copies from eBay in 1993 for $20 and $18: there's some buyer speculation that went nowhere.
The Best Of Marvel Comics Volume One
Marvel, 1987, No ISBN