Our Bronze Age Index comprises some landmark titles that feature the first appearances of The Punisher, Hobgoblin, Sabretooth, Wolverine, Phoenix, and Emma Frost. And now is probably not a bad time to get your hands on them, considering as a group they have declined in value by about 50% since 2009.
Any collector would consider these Bronze Age titles must haves for their collection. However, I'm sure most (if not all) would gladly exchange these Bronze Age keys for a dream collection that includes the debut titles of Marvel's Big Guns—Spider-Man, The Avengers, The Incredible Hulk, Daredevil, The Fantastic Four, and The X-Men.
Marvel's beginning dates back to 1939, some twenty years before these characters made their debut. First publishing under the Timely Comics name, Marvel introduced the android hero Human Torch, Sub-Mariner, and Captain America.  But it wasn't until the sixties—the Silver Age—that Marvel was truly born. The Marvel we know today was born in the early sixties, a magical time for the House of Ideas.
We've put these six titles into an index we call the Silver Age #1 Very Fine Index. Unlike our Bronze and Modern Age indices, we do not include grades in the mint range (CGC Grades 9.0 – 10.0). Unfortunately mint copies just don't trade frequently enough. On a practical note, the mint grades are out of reach for all but the wealthiest collectors. So the Silver Age #1 Index includes the Fine/Very Fine grade range only (CGC 7.0 to 8.5).
It's no surprise that these titles continue to do well today. These characters are arguably more popular now than ever, appearing in a steady stream of animated series, movies, books, and toys. As the chart below shows,  these titles have appreciated by 6.5% in just the last nine months.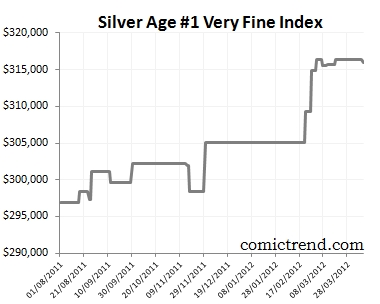 All of the individual constituents have increased in value, led by Avengers #1's 15% gain.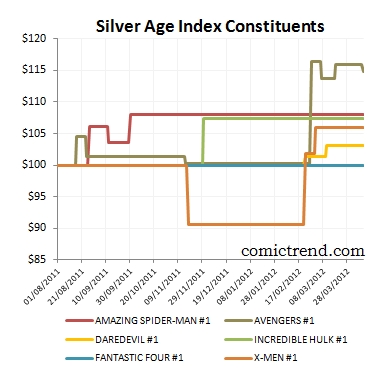 While these titles have done well over the past nine months, the Modern Age has left them in its dust. The Bronze Age continues to tread water, down about 5%.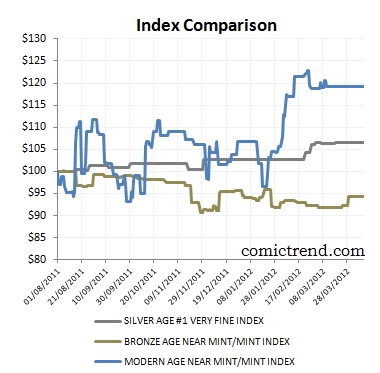 It's going to be exciting to see where these main indices go from here!